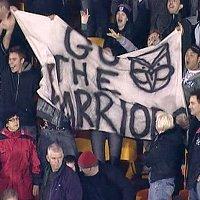 James Maloney scored a hat-trick this afternoon at Suncorp, equalling coach Ivan Cleary's point-scoring record and leading the Warriors to a 48-16 victory over the Broncos.

The medical staff were spread thin during the first half, with four players forced out of the game and several others injured. Israel Folau came off with a bone protruding from his finger. Denan Kemp suffered fractured ribs. Manu Vatuvei and then Simon Mannering pulled hamstrings and hobbled off. Michael Luck had blood pouring from his head but a carton of bandages dealt to that. Wade McKinnon looked to be in serious trouble as well until his finger was popped back in.

After escaping a two-match ban midweek, James Maloney repaid his lawyer's hard work several times over. He scored the last three of the Warriors' eight tries, added to seven conversions and a penalty for a 28 point haul.

The Broncos have never conceded more points at Suncorp Stadium. They led after the first quarter, thanks to a Folau try off the back of a good break from Gillett. But when Kemp and Folau were both forced off, the Warriors pounded the hole left in defence. Vatuvei had a hand in two tries before his injury. Gillett struck back for the Broncos before halftime, closing the gap to 14-10.

The Broncos reclaimed the lead not long after the break, McCullough pushing over from dummy-half. But that was to be their last scoring play.

Ropati opened the floodgates in the 47th minute, the first of six unanswered tries coming off the back of a McKinnon break. From then on it was what is generally referred to as "vintage Warriors". The fans will likely be pushing to keep the vintage jerseys too, anything to inspire more of this sort of form.

Heremaia and Hohaia were ingenious in attack for the Warriors. Heremaia was strong in defence as well, chipping in with 30 tackles, while Luck added 36 to his season tally. Gillett and Kenny were relative stand-out performers for Brisbane. The Broncos were obviously unlucky to lose two stars early on, but with the Warriors losing two key players as well, the home-side really had no excuses.

The Broncos have until Friday to regather, they travel to the SFS to take on the Roosters and will be looking to avoid three straight losses after a promising round one. The Warriors will host the Sea Eagles at Mt Smart on Sunday.


Match Details
Brisbane Broncos 16 were defeated by New Zealand Warriors 48
National Rugby League - NRL - Round 3 - Sunday March 28, 2010 2:00pm
Venue: Suncorp Stadium
Referee: Steve Lyons and Alan Shortall
Video Referee: Tim Mander
Touch Judges: Daniel Eastwood and Ricky McFarlane
Crowd: 32338
Halftime: Brisbane Broncos 10 New Zealand Warriors 14

Leagueunlimited.com players of the match:
3 Points - James Maloney (3 Tries, 7 Conversions, 1 Penalty Goal)
2 Points - Aaron Heremaia
1 Point - Lance Hohaia (1 Try)
BRISBANE BRONCOS (16)
Tries: Matt Gillett, Andrew McCullough, Israel Folau
Conversions: Peter Wallace (2/3)

NEW ZEALAND WARRIORS (48)
Tries: Lance Hohaia, Simon Mannering, Jerome Ropati (2), Joel Moon, James Maloney (3)
Conversions: James Maloney (7/8)
Penalty Goals: James Maloney (1/1), Kevin Locke (0/1)
LeagueUnlimited.com Live Commentary Welcome to this afternoon's coverage from Suncorp. The sun has gone behind the clouds and the humidity has dropped, no doubt to the Warriors' relief. Still very warm though.

Temperature 27.3°C

Dew Point 16.3°C

Relative Humidity 51%

Wind Speed 13.0km/h (7.0kt)

Wind Gusts 20.4km/h (11.0kt)

Wind Direction E

Pressure 1018.2hPa

Rain Since 9AM 0.0mm

The Broncos took out the Toyota Cup match 30-18.

For the Broncos Corey Parker is out injured, he is replaced at lock by Matt Gillett, Lagi Setu comes on to the bench. Alex Glenn comes in to the starting lineup at centre, Gerard Beale goes to the bench.

For the Warriors Russell Packer and Jacob Lillyman come into the starting lineup, Sam Rapira and Ben Matulino making way for them. Sione Lousi drops out of the 17, replaced by Jeremy Latimore.

1 min: Here we go, the Broncos kickoff and it's big Vatuvei with the first hitup. He loses it straight away in the tackle and the Broncos have an attacking scrum.

2 min: Wallace throws it straight to a grateful Joel Moon. Tate breaks the line! He makes it to the opposite 20m. Now the Warriors lose it, Broncos working it out from their 10m.

4 min: Maloney gets a hand in at marker, knocks it on though and it's a Broncos scrum near halfway.

5 min: Penalty. Broncos interfere with the play-the-ball and the Warriors are on the attack.

6 min: Norman is trapped in goal, Broncos dropout. The Beast winds up but he's well hit by Gillett.

9 min: PENALTY GOAL
The Warriors surprisingly opt for the two-pointer, Maloney slots it over from 10m right in front.
New Zealand Warriors 2-0

11 min: Penalty. Silly mistake from the Warriors, letting the Broncos up to halfway with a leg-pull.

12 min: Lockyer bombs to the right, Vatuvei gets up and grabs it. Royal's dropped it though and the Broncos are back on attack.

13 min: Lockyer tries a grubber this time, Locke dives on it and will take a dropout.

14 min: Video Ref. Folau looks to be over in the corner. He's grounded it but possibly double movement.

15 min: TRY
Mander gives it the green light. Lockyer puts Gillett through the hole with a good ball, Ropati misreads it, Gillett gives it to Folau, he's wrapped up but the momentum takes him over for the first try. Wallace pushes the conversion attempt away.
Brisbane Broncos 4-2

17 min: The tackle count restarts for a Warriors set, a forward pass is thrown from dummy-half though and the Broncos have a scrum on their 20m.

19 min: Penalty Broncos. All of a sudden they're at the opposite 30m. Denan Kemp looking in a bit of strife, maybe just winded though.

20 min: Lockyer puts it up high for Folau again, he knocks it forward and dead and looks to have done something to his arm. Folau off, possibly a dislocation.

23 min: TRY
Great try. They spread it fast to the left where Folau has left a gap, Vatuvei juts back in, gives it to Mannering who dots down and looks to have done his hammy in the process.
New Zealand Warriors 8-4

24 min: The word is a compound dislocation for Folau, out for a few weeks. Mannering's left hamstring not looking good either.

27 min: TRY
Broncos in trouble, Folau and Kemp off the field and the Warriors make the most of the gaping hole again. Vatuvei busts through a couple near halfway, gives it to Ropati down the wing, he flicks it inside to Hohaia who speeds over the line.
New Zealand Warriors 14-4

30 min: Another blatant forward pass from the Warriors, Luck throws it this time. Broncos on attack now.

31 min: Winterstein is over in the corner but it's called back for obstruction from Lockyer.

32 min: Kemp is off with fractured ribs. Folau being rushed to hospital. Now the ref blows time as Luck's head is covered in blood. It's a war-zone.

34 min: TRY
Te'o makes a break down the right, the Warriors just manage to cover it. Lockyer spreads it quickly to the left and Gillett crosses for a nice try.
New Zealand Warriors 14-8

35 min: Now Vatuvei has done his hamstring, chasing down Te'o, and is out of the game. McKinnon comes on for him.

36 min: A couple of punishing hits from the Broncos. Now Heremaia is writhing with a shoulder problem. They're going to run out of players soon here. McKinnon comes to the sideline to have his finger popped back in.

40 min: Penalty Warriors. Right on halftime and Locke's going to have a shot from behind halfway.

40 min: PENALTY GOAL ATTEMPT
He leaves it very short, Lockyer takes it and kicks it out on the full for halftime.
New Zealand Warriors 14-10

What a half! Two tries each, the Warriors in front by four. The talking point though will be the injuries - Kemp and Folau out for the Broncos, Mannering and Vatuvei out for the Warriors. Luck, Heremaia and McKinnon also in trouble but look to be alright to carry on.

41 min: They've managed to get 26 players together and we're back on. Lillyman loses it to gift the Broncos the first attack of the half.

43 min: TRY
The Warriors asleep at marker, McCullough goes himself from dummy-half on the last tackle, barges over from close range to tie the scores. Wallace puts the Broncos in front.
Brisbane Broncos 16-14

47 min: TRY
McKinnon breaks through at halfway off a great offload from Latimore, he has Tate inside him but goes out to Ropati who dots down to reclaim the lead.
New Zealand Warriors 20-16

49 min: Lockyer grubbers on the last after a good set, it's not a good kick though and rolls dead.

50 min: Video Ref. This will be an amazing try for the Warriors!

51 min: TRY
Mander presses the green button. Hohaia pops it inside to Heremaia on the last tackle, he breaks through but is trapped, puts in a banana out to the right, Moon scoops it up and scores.
New Zealand Warriors 24-16

54 min: Winterstein spills it from the play-the-ball, Warriors scrum 20m out on attack.

55 min: Maloney puts a good bomb out to Tate's wing, Beale gets up high and hits it out, another Warriors scrum.

57 min: TRY
Advantage played, McKinnon goes left to Hohaia, he holds and gives a well-timed ball to Ropati who busts through and glides over in the left corner. Maloney adds two more.
New Zealand Warriors 30-16

59 min: Hohaia puts in a nice chip kick, Tate and Beale collide heavily but are both ok. The vintage jerseys must be inspiring the Warriors.

60 min: The bomb goes up, Gillett looks like he has it for a try but McKinnon strips it on his way to the ground.

62 min: A lot of tired bodies out there now, Locke breaks through though!

64 min: TRY
Ropati flicks it back inside from the left wing, McKinnon is tackled but offloads to Maloney from the ground, Maloney steps inside and gets past three to score between the posts.
New Zealand Warriors 36-16

67 min: The Broncos run it on the last, Thaiday is wrapped up though and that's a turnover. Gillett looks to be in trouble, struggling to get onside.

69 min: Gillett comes off with a leg injury. Wallace puts in a nice little kick down the left but Locke gets back to cover it.

71 min: TRY
Heremaia ducks and weaves around the ruck, breaks through at halfway, he has plenty of support and gives it to Maloney who canters over as we see the Broncos fan clogging the exits.
New Zealand Warriors 42-16

72 min: Maloney nearing Ivan Cleary's point-scoring record now.

74 min: Hohaia kicks it out to give his forwards a breather.

75 min: Norman makes half a break. Warriors get a hand in on the last to give the Broncos six more tackles.

76 min: Wallace pushes a forward pass, trying desperately for consolation points. Warriors scrum.

77 min: TRY
That's the hat-trick! Maloney chips on his own 30m, kicks it again out of Wallace's hands on the ground, it pops up for him between the posts and they're breaking records now.
New Zealand Warriors 48-16

79 min: Locke twists, grubbers for himself, passes inside to McKinnon but Norman does well to spoil it.

80 min: Maloney gets it as the siren goes, kicks to the corner, Locke is chasing but Winterstein kicks it dead and that's the game.


Click Here to view the live update of the game.
|
To discuss the game with 1000s of other fans, please click here.