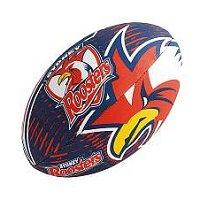 YOU want to really know why the Sydney Roosters are favourites for the NRL grand final against the Manly Sea Eagles on Sunday? Well, here's why: their record against the better teams this year.

It's a simple yet telling statistic. The Roosters played 13 times against top 8 sides and won 10 of them – 77% of the time, thanks very much.

Meanwhile, Manly were up and down – winning 7 out of 14 – for a 50% strike rate.

It might all count for nothing, you say, and this is finals footy – the big one – the match that decides the 2013 champion. There is no other prize. The loser of the grand final gets nothing.

True, but form is everything to punters, and their track record this year is why the Roosters will start with their beaks in front with Ladbrokes.com.au.

 It should be a cracking match. Sonny Bill Williams is a walking headline, and after a great season while under the microscope, he can earn the biggest headline of the year.

The Roosters were fantastic in demolishing the Newcastle Knights 40-14 in last week's Preliminary Final at Allianz Stadium in Sydney and this is theirs to lose the good judges say.

Manly, on the other hand, rallied like champions do by coming from 14-0 down after 13 minutes in the other Preliminary final last week at ANZ Stadium in Sydney to destroy the South Sydney dream – running away to win 30-20.

The Sea Eagles are like a grand old galloper, trained to perfection, and set for the big race. There is no doubt Manly is a big-time performer. The northern beaches side just loves the occasion, as we saw again last week. You bet against Manly at your peril.

And that adds up to a blockbuster on Sunday evening in the battle of the beaches where Ladbrokes.com.au has a grand final promotion offer for punters.

Back either team in head to head betting and if your side scores three tries or more and loses Ladbrokes.com.au will refund the bet – up to a maximum $50.
Ladbrokes.com.au is also offering a 50% bonus payout on fixed odds prices for the winner of the Clive Churchill medal awarded to the best player on the ground in the grand final. If you like Sonny Bill Williams, then how does a 50% bonus on his odds sound? Get the 50% bonus for bets up to $25.

And of course, there's $250 worth of free bets waiting for you at Ladbrokes.com.au in the first deposit promotion. Sign up now – it's easy and fast – and deposit up to $250 and Ladbrokes.com.au will match it with free bets.

Get set for the NRL grand final and super weekend of racing with the Epsom Hcp and Turnbull Stakes meetings.

Sign up now at Ladbrokes.com.au for FREE bets and NRL grand final offers.