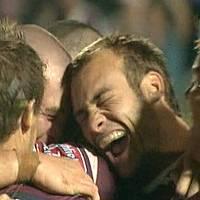 A diabolical second half performance from Souths, in which their players replaced their hands with slabs of meat, has helped the Manly Sea Eagles to a clinical 24 points to 8 win at ANZ Stadium tonight.

Coming out of half time down 18 points to nil, Souths started strong, and were the first to post points on the board through Craig Wing in the 49th minute.

Souths looked like starting a comeback of epic proportions, making big metres out of their own half and defending hard, but were let down by ball handling which can only be described as pathetic.

Brett Stewart crossed for his second not long after Wing's try and, while there was still a good thirty minutes to go in the game, sealed the victory for the visitors, with Souths 64% completion rate ensuring they were unable to do anything with the ball, save for a consolation try to Nathan Merritt at the death.

The first half reminded us all of the Sea Eagles of last year, putting forward a composed and complete display that was reminiscant of the 2008 Grand Final.

Every pass stuck, every tackle was made, and almost all attacking raids gave a result. And they made it all look so simple in the process.

Jamie Lyon started the scoring off in the 11th, playing a simple numbers game to take advantage of Souths compressed defensive line.

Lyon was in again in the 18th, this time the recipient of a draw and pass play by Matt Orford.

Brett Stewart continued his stunning return to football, backing Anthony Watmouth in the 33rd to collect his fourth try in two games.

It was an impressive first half display from the reigning premiers, and while coach Des Hasler may be disappointed with their second half drop in intensity, he certainly wan't be as disappointed as Souths coach Jason Taylor, who will no doubt have all his players working hard on their ball control if they are to leave this game by the wayside.

Match Details
Manly Sea Eagles 24 def South Sydney Rabbitohs 8
Round 6 - Saturday, April 18th, 2009 7:30pm
Venue: ANZ Stadium, Homebush
Referee: Jared Maxwell & Phil Haines
Sideline Officials: Luke Potter & Daniel Eastwood
Video Referee: Steve Clark
Crowd: 14,225
Halftime: Rabbitohs 0 Sea Eagles 18

South Sydney Rabbitohs 8
Tries: Craig Wing, Nathan Merritt
Goals: Chris Sandow (0/1), Issac Luke (0/1)
Manly Sea Eagles 24
Tries: Jamie Lyon (2), Brett Stewart (2)
Goals: Jamie Lyon (4/4)

LeagueUnlimited.com Player of the Match
3 Points: Anthony Watmough (Sea Eagles)
2 Points: Brett Stewart (Sea Eagles)
1 Point: Jamie Lyon (Sea Eagles)

LeagueUnlimited.com Live Commentary
Good evening and welcome to ANZ Stadium for tonights clash between the South Sydney Rabbitohs and the Manly Sea Eagles.

Manly scored their first win of the season last week, no doubt the return of mercurial fullback Brett Stewart played a massive part in that. The Rabbitohs went down to the Bulldogs in a tight tussle last Monday night, but maintained their position in the top four.

Team changes are minimal, with Ben Lowe out for the Rabbitohs, Craig Wing starting at lock and Jamie Simpson coming onto the bench. As such, the teams for tonight are:

RABBITOHS: 1. Luke Capewell, 2. Nathan Merritt, 3. Colin Best, 4. Beau Champion, 5. Fetuli Talanoa, 6. John Sutton, 7. Chris Sandow, 8. Luke Stuart, 9. Isaac Luke, 10. Roy Asotasi, 12. Shannon McPherson, 13. David Fa'alogo, 14. Craig Wing
Interchange: 15. Eddy Pettybourne, 16. Jaiman Lowe, 17. David Kidwell, 18. Jamie Simpson
SEA EAGLES :1. Brett Stewart, 2. Michael Robertson, 3. Jamie Lyon, 4. Steve Matai, 5. Michael Bani, 6. Chris Bailey, 7. Matt Orford (c), 8. Brent Kite, 9. Matt Ballin, 10. Josh Perry, 11. Anthony Watmough, 12. Glenn Hall, 13. Glenn Stewart
Interchange: 14. Heath L'Estrange, 15. Jason King, 16. Adam Cuthbertson, 18. Shane Rodney

0 min: And we're underway! Sea Eagles to have first use of the footy.

2 min: Pin-point kick from Sandow holds up just before the dead ball line, leaving Brett Stewart with the task of running it out under heavy pressure, which he does.

3 min: McPherson loses the ball in the ruck, and hands the ball over to Manly fairly cheaply.

4 min: Orford chips over the line, Capewell races over to clean it up then is grounded in-goal by Lyon. Goal line dropout.

6 min: Poor last tackle kick from Orford goes dead in-goal.

7 min: Capewell juggles the ball and loses it with the try-line begging, but luckily for the Rabbitohs they will get the ball back for a Manly knock-on.

8 min: Talanoa goes over in the corner on the first tackle, however is ruled to have lost the ball.

10 min: Another simple lost ball from the Rabbitohs, however this one in far more dangerous position, only ten out from their own line.

11 min: TRY Manly Sea Eagles
Simple numbers play by the Sea Eagles, passing the ball through the hands out to Lyon on the right side, where they took full advantage of the Rabbitohs compressed defensive line, catching out Talanoa on a three on one overlap. Conversion attempt by Jamie Lyon successful.
Manly Sea Eagles 6-0


16 min: Repeat set for Manly on the Rabbitohs line after Best swatted the ball out of the air.

17 min: Manly playing under 8's style footy - throwing a lot of passes but not going anywhere.

18 min: TRY Manly Sea Eagles
Another basic play by the Sea Eagles results in a try. This time Orford runs the ball to the line before drawing and passing to Lyon who darts over for his second. Conversion attempt by Jamie Lyon successful.
Manly Sea Eagles 12-0


21 min: PENALTY - Rabbitohs: Soft penalty given here for a high shot by Watmough. Rabbitohs with a chance to get themselves in the game.

22 min: PENALTY - Sea Eagles: Talanoa interferes with the Sea Eagles player in attempting to take the kick.

24 min: VIDEO REF - Possible Sea Eagles Try...
Not sure how the video ref will rule on this, as there are about a thousand indiscretions that can be ruled on in this play.

24 min: NO TRY - Goal-line dropout
Souths strip the ball and ground it in-goal.

25 min: Matai's grubber through the line is batted dead by Merritt. Yet another set in defence coming up for Souths.

26 min: Big shot from Luke on Orford has jarred the ball free.

29 min: Manly have enjoyed 66% of the possession so far, and you'd think that when Souths did have the ball they'd treat it as sacred. Not so, as Talanoa tries to force the offload and loses the ball forward.

30 min: PENALTY - Sea Eagles: Souths penalised for an extra effort after the tackle was completed.

31 min: PENALTY - Rabbitohs: After Watmough loses the ball on Souths line, he gives away the penalty for being offside.Manly Sea Eagles 12-0


33 min: TRY Manly Sea Eagles
Watmough pours through a massive gap down the middle, then passes to Brett Stewart who collects his fourth try in two games. Conversion attempt by Jamie Lyon successful.
Manly Sea Eagles 18-0


36 min: PENALTY - Rabbitohs: Watmough hangs around in the ruck too long, and the Rabbitohs will get another chance to put some points on the board.

37 min: Stewart knocks the ball over the line, and the Rabbits will have head and feed on Manly's ten.

38 min: Manly win a rare scrum against the feed, however give Souths another chance after they lose the ball on the first play.

39 min: PENALTY - Rabbitohs: Manly all offside and Souths will have one more set and chance to get on the board before half time.

39 min: VIDEO REF - Possible Rabbitohs Try...
Beau Champion claiming a try, with the video ref just checking on grounding.

39 min: NO TRY - Play-the-ball
Phenomenal effort from Watmough sees him place his leg inbetween the ball and the ground, holding Champion up in-goal.

HALF TIME
It's half time here at ANZ and the Manly Sea Eagles are in full control of this one and look well on their way to notching up their second win of the season, leading Souths at the break 18 points to nil.

40 min: And we're back underway!

41 min: Enthusiastic start by the Rabbitohs forces Manly to kick from inside their own 40, and as a result Souths will start from halfway.

42 min: PENALTY - Rabbitohs: Manly strip the ball in the tackle, and Souths will get the first scoring chance of the half. May come at a cost though, with Sutton limping out of the tackle.

43 min: Robertson marks the ball in-goal, and takes Manly back to the 20 for the restart.

46 min: PENALTY - Sea Eagles: Play stopped with Jamie Simpson being called out by the referee, and subsequently being put on report for using his knees in the tackle.

48 min: PENALTY - Rabbitohs: Manly penalised for a leg pull and Souths will get another chance to get on the board.

49 min: VIDEO REF - Possible Rabbitohs Try...
Just checking for an obstruction in a possible try to Wing.

49 min: TRY South Sydney Rabbitohs
It's taken fifty minutes, but Souths are finally on the board through a strong individual effort from Craig Wing. Conversion attempt by Chris Sandow unsuccessful.
Manly Sea Eagles 18-4


51 min: Asotasi loses the ball on the fourth tackle following the restart, inviting Manly to extend their lead.

52 min: VIDEO REF - Possible Sea Eagles Try...
Checking for another obstruction in the lead up to Brett Stewarts second.

52 min: TRY Manly Sea Eagles
Manly make Souths pay for their poor handling following the restart, with Brett Stewart crossing for his second tonight, and fifth in two games. Conversion attempt by Jamie Lyon successful.
Manly Sea Eagles 24-4


54 min: Yet another simple lost ball by Souths, with Talanoa losing it trying to play the ball quickly.

56 min: Manly throw the ball around willy-nilly inside Souths red zone, and look certain to score before Capewell intercepts the ball and races 30 metres down-field.

57 min: Fa'alogo has butchered a certain try for Souths, passing the ball to no-one when he could very well have gone himself.

59 min: Capewell takes an Orford bomb with relative ease, then goes on another long dart up-field.

63 min: Pettybourne drops the ball cold coming away from his line.

65 min: Another forced pass close to their line from Souths goes to ground.

67 min: Jason Taylor must be just about ripping his hair out, as his team commit another unforced error.

68 min: Souths case of the dropsies looks to be spreading over to Manly, with Bani losing the ball with the line begging.

70 min: Another set in attack for Souths, another lost ball.

72 min: Souths finally get to their kick, but put it out on the full.

74 min: Wing cleans up a grubber through, and is grounded in-goal by Glenn Stewart.

76 min: TRY South Sydney Rabbitohs
Souths score completely against the run of play, after Champion intercepts the ball close to his line, then finds Merritt who runs the length of the field to score. Conversion attempt by Issac Luke unsuccessful.
Manly Sea Eagles 24-8

FULL TIME
It's full time here, and a clinical performance from Manly has seen the visitors take the points, defeating Souths 24 points to 8.