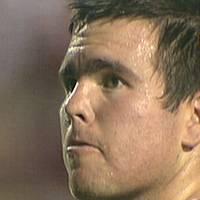 The Sea Eagles have done enough to take the points over the Warriors in Auckland this afternoon, grinding out a 14-6 victory.

It was an inauspicious start for the Warriors - 19-year-old Bill Tupou spilling the ball with his first touch on debut. He did recover well however, and coach Cleary will likely be pleased with the young winger's first NRL performance.

It took until the 19th minute for the scorers to be troubled. A smooth cut-out ball from Ben Farrar put winger Michael Robertson over in the left corner. Phil Cooley confirmed that Robertson had indeed scraped just inside the corner flag.

Ten minutes later Farrar was off taking a compulsory rest, thanks to a professional foul on Tupou. Tupou made an impressive break through the middle, Farrar chased him down but held on for longer than referee Cummins could allow.

The Warriors failed to take advantage of the depleted Sea Eagles however. Captain Jamie Lyon added two points from right in front to give his side a 6-0 lead at the break.

The scores were tied not long into the second half. Ropati did well to dot down in the left corner, brushing off three would-be tacklers and staying in play. Maloney converted from the sideline, one high point in a mixed performance from last week's hero.

The talking point for Warriors fans will be Steve Matai's try in the 66th minute. He dived on a Foran grubber between the posts after Maloney hesitated. Cooley gave the green light with a benefit-of-the-doubt disclaimer, Matai not in control but getting enough on the ball for Phil's liking.

This was enough of a lead for the Sea Eagles to hold on to. A frequently flat Warriors attack couldn't find any holes in a solid Manly line.

Glenn Stewart was particularly strong in defense, making an impressive 44 tackles. Trent Hodkinson again made good contributions, likely cementing his spot at halfback. For the Warriors Michael Luck was ever reliable, adding another 45 tackles to his tally. In attack Lance Hohaia tried his best to spark something but found little support.

Next week the Sea Eagles host the Sharks in the local derby. The Warriors travel to ANZ Stadium to take on the Bulldogs.


Match Details
New Zealand Warriors 6 were defeated by Manly Sea Eagles 14
National Rugby League - NRL - Round 4 - Sunday April 4, 2010 2:00pm
Venue: Mt Smart Stadium
Referee: Ben Cummins and Chris James
Video Referee: Phil Cooley
Touch Judges: Grant Atkins and Luke Phillips
Crowd: 19230
Halftime: New Zealand Warriors 0 Manly Sea Eagles 6

Leagueunlimited.com players of the match:
3 Points - Glenn Stewart
2 Points - Trent Hodkinson
1 Point - Lance Hohaia
NEW ZEALAND WARRIORS (6)
Tries: Jerome Ropati
Conversions: James Maloney (1/1)

MANLY SEA EAGLES (14)
Tries: Steve Matai, Michael Robertson
Conversions: Jamie Lyon (1/2)
Penalty Goals: Jamie Lyon (2/2)
LeagueUnlimited.com Live Commentary Good afternoon and welcome to the coverage from Mt Smart this Easter Sunday.
It's a nice sunny afternoon in the city of sails, here's the rundown on the conditions:
21.8°C
Feels like 22°C : 1 layer of clothing
Wind: Light winds
NW 9 km/h
Gust 13 km/h
Rainfall 0.0mm
Humidity 73%
Pressure 1008hPa
Visibility virtually unlimited.
The Warriors looking for a 3-match winning streak, it would be the first time since the 08 finals.
Meanwhile Manly have lost three in a row away from home, they will look to break that run.
For the Warriors Royal comes off the bench into the starting lineup, Rapira makes way for him. Otherwise unchanged.
The Sea Eagles are as named, 1-17.
1 min: Here we go! Warriors kickoff from the southern end and it's big Perry with a solid first hitup.
2 min: It's not a good start for Tupou on debut, juggles picking up and then loses it in the tackle. Manly with an attacking scrum.
4 min: Watmough makes an error on the first tackle and the Warriors scrum on their 10m.
6 min: Hohaia manages to get a penalty and the Warriors out of their half. Now here's another one and all of a sudden the Warriors are on attack. Lyon looks to be in a bit of strife, holding his arm.
7 min: Manly penalty. Warriors offside on defense. Manly start 40m out on attack.
8 min: Matai dots down but they were in front of Hodkinson's kick. Penalty Warriors.
9 min: Ropati jumps up out of the line and forces an error from Stewart. Warriors scrum, 20 out on attack.
11 min: It looked for a second like Maloney was through but they just manage to pull him back.
13 min: Penalty Warriors. High tackle from Ballin, not much in it but a fair call.
14 min: Luck breaks through, offloads to Packer, he's brought down short. Royal goes within centimetres but messes up the play-the-ball.
17 min: Penalty Sea Eagles. Warriors offside, Manly to attack from 30m out.
18 min: Video Ref. Robertson dots down, just inside the line?
19 min: TRY
Manly spread it left, Farrar takes it at speed, throws a cutout to Robertson, they have the overlap and he goes over untouched, just managing to sneak inside the corner flag.
Manly Sea Eagles 4-0
20 min: Manly have the overlap again on the left! Robertson spills it this time, maybe a Falcon there?
21 min: Penalty Warriors. High shot from Hodkinson, very soft call.
22 min: Nice little grubber from Hohaia on the last. Hodkinson is there to clean up and make amends though.
23 min: Tupou makes a good run, his confidence must be slowly coming back.
24 min: Bomb from Hohaia, Farrar gets up and claims it uncontested.
26 min: Penalty Sea Eagles. Brown held on for too long and lets them out of their half.
28 min: Tupou's away! He makes a break but is chased down. And Farrar's off for ten! He held on for too long, professional foul, seems a fair call.
29 min: Tate is on the end of a terrible pass and can't hold on, 12-man Sea Eagles off the hook.
30 min: There's a bit of feeling out there now, bit of niggle in the ruck and Watmough's head is getting redder by the minute.
33 min: Touch judge gets it wrong, Manly tap on their 20 instead of a 10m scrum.
34 min: Stewart takes on the line, gets a nice offload away to Lyon, Moon hits him hard though and forces the spill.
35 min: Maloney throws a shocker to McKinnon, he knocks on. It's changed to a penalty after McKinnon says something a little bit rude.
36 min: PENALTY GOAL
Lyon slots it over for two.
Manly Sea Eagles 6-0
37 min: Warriors scrum on halfway, last chance with the extra man.
38 min: Penalty Warriors. They take a quick tap as Farrar sprints back in to the line.
40 min: Not a very inspired set from the Warriors, flat-footed. They trap T-Rex on the last though so will have another crack.
40 min: A frenetic final 20 seconds! Ropati comes very close on the left, a late siren gives Hohaia a chance to bomb, Locke comes close on the right but it's cleaned up and that's the half.
We see Ivan Cleary lecturing his troops in the sheds. No vision from the other room though, looks like someone's dropped their handkerchief on the camera?
41 min: We're off again, Warriors receive the kickoff in front of the bank at the northern end of Mt Smart.
41 min: Penalty Sea Eagles. Maloney called for a high shot - "clumsy but high" is the call from the ref. Pretty soft.
42 min: Forward pass from the Sea Eagles and the Warriors have a scrum on halfway.
45 min: Video Ref. Ropati is over in the corner, did he touch the chalk?
45 min: TRY
Cooley gives it the green light. Hohaia gets it right but goes back left, quick hands from Brown and McKinnon get it to Ropati, Ropati spots a gap, puts the foot down and goes 30m to open the Warriors' account. Maloney adds two from the sideline.
6 all
48 min: Maloney chips over the defense, Kite does enough to stop Tate from picking it up. Lot of feeling out there now, crowd has lifted and so have the players.
51 min: Bang! Matulino launches a shoulder at Bailey. No damage done. Both sides looking to put some hurt on.
54 min: Crowd figure comes through, just under 20,000. Warriors bringing it out from their 20m after Hodkinson intentionally kicks it dead.
55 min: Hohaia bombs high. Somehow it's Luck contesting for it, hence Farrar takes it easily.
56 min: McKinnon spills it in the tackle. Sea Eagles will attack from 30m out.
57 min: Penalty Sea Eagles. Warriors hold on to Watmough for too long.
58 min: Penalty Sea Eagles. The ball comes loose and it's deemed a strip. A metre out from the posts, what will they do? Lyon says they'll take two.
59 min: PENALTY GOAL
Lyon gives Manly a lead of two going into the last quarter.
Manly Sea Eagles 8-6
60 min: Again Hodkinson boots it dead. Warriors making good yards up to halfway.
61 min: Warriors run it left on the last. Tupou makes half a break but Williams nudges him out.
62 min: Penalty Sea Eagles. Maloney holds on for too long. Watmough lets him know what happened in case he missed it.
63 min: Watmough comes very close. Brilliant strip from Locke as Watmough goes over the line. They ask Phil Cooley to make sure - the call is no try and play on.
65 min: Penalty Sea Eagles. Again it's Maloney and this time Luck is called over for a chinwag - "next one is in the bin".
66 min: Video Ref. It looks like Matai has grounded the grubber. Or has he?
66 min: TRY
Cooley gives it! Benefit of the doubt is the call. Foran grubbers between the posts, Maloney hesitates, Matai dives on it, never had control but deemed to have some downward pressure.
Manly Sea Eagles 14-6
69 min: Ropati is off with a hamstring injury.
72 min: Hohaia at first receiver kicks it out on the full, Manly restart on halfway.
73 min: Warriors desperately probing for a gap in the Manly line.
74 min: Nice chip from Hohaia, Locke gets to it but knocks on.
76 min: Intense attacking set from the Warriors, half a break from Hohaia, half a break from Rapira, Tate jets to the right but has little support and the crowd sit back down.
78 min: Penalty Warriors. Kite had a hand in the play-the-ball on Heremaia.
78 min: Royal busts through the line but spills the ball a metre out from the tryline.
80 min: McKinnon is trapped in-goal as the siren goes.

Click Here to view the live update of the game.
|
To discuss the game with 1000s of other fans, please click here.