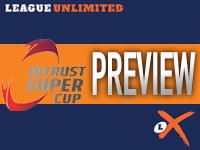 ROUND 21 PREVIEW (www.qrl.com.au)

By Colleen Edwards

MACKAY CUTTERS v SOUTHS LOGAN MAGPIES
Virgin Australia Stadium on Saturday, August 10 - 6pm
Referee: Nick Kalpakidis
Head to Head: Souths Logan 8 Mackay 3

Twitter: #intrustsupercup #ISC #BEARSvTIGES

Souths Logan became the fifth side to be held scoreless and the second by the Northern Pride this season when they lost 42-0 at Yarrabah last weekend. The Magpies will still be smarting after the big loss and can be expected to show more fight against the Cutters this weekend. They have made three changes to their line-up, the most notable the return of key representative forward Mat Pitman from suspension. Fellow forward Sam Gardel will also return via the bench, while Dallas Anderson has been named to take the place of Josh Damen in the backs. For the Cutters – Michael Morgan and Dave Petersen are expected to come into the 17 with Dean Webster and Rory Kostjasyn making way. Kostjasyn have been named on the bench for the North Queensland Cowboys in their match against Penrith.  The Magpies have the superior record between the two teams; but it was only a Wes Conlon field goal that could separate the two sides in their match earlier this year which the Magpies won 23-22. Cutters winger David Milne, who scored a hat-trick in last weekend's win over Norths, has set a new season try scoring record for his club with 14.

QRL Media tips: Mackay Cutters by 8. The Cutters are pushing to retain their top two spot and will be hard to beat in front of their home fans.


TWEED HEADS SEAGULLS v NORTHS DEVILS
Piggabeen Sports on Sunday, August 11 - 2pm* (Live on Channel 9)
Referee: Chris Anderson
Head to Head: Norths 11 Tweed 8 Drawn 1

Twitter: #intrustsupercup #ISC #THSvDEVILS

Tweed Heads will attempt to win five straight games this weekend, but have been forced to make a host of changes to their team. Josh Coyle has accepted a three-match ban for a dangerous throw, while co-captain Matt King will contest the same charge at the QRL Judiciary tonight. Other changes see fellow co-captain James Wood, half Michael Burgess and Sam Ross out of the side, with Reggie Saunders also out, but named on an extended bench. Players to come in are Luke Dumas (wing) and Matt Pow, Matt Lindsay, Josh Harvey and Ed Murphy on an all-new bench. Norths have made two changes, with Kurt Baptiste to return as hooker and Mark Vaiao back via the bench. Pat McPherson and Shaun Maloney are the players to make way. As well as being an important game on the field for both sides – the Seagulls will be celebrating the completion of their clubhouse, which will be handed over to the community before kick-off. They will also wear special jerseys which will later be auctioned off to raise funds for the children's ward at the Tweed Heads hospital. Norths have had the better of the Seagulls in recent matches, winning their past three games. However, Tweed will be hoping to maintain their good recent home record where they have won their past three games at Piggabeen.

QRL Media tips: Tweed Heads Seagulls by 2. Despite a number of forced changes, the Seagulls have a lot to play for and will be hard to hold out.

 
EASTS TIGERS v SUNSHINE COAST SEA EAGLES
Langlands Park on Sunday, August 11 - 2pm
Referee: Tim Rutherford
Head to Head: Easts 5 Sunshine Coast 4

Twitter: #intrustsupercup #ISC #TIGESvSCSE

The Tigers' push to play in their first finals series since 2007 keeps gathering momentum, with the side climbing into fourth place on the ladder following last weekend's 24-18 win over Burleigh. The Tigers have now won five of their past six games and will look to go one better this weekend against the Sunshine Coast. Not only have the Tigers won the past five games played between the sides; they have also won their past four home games, making an upset win for the Sunshine Coast a difficult proposition. The Sea Eagles started strongly against Tweed Heads last weekend, kicking a 40-20 in their opening set and scoring the first two tries. However, they could not maintain that level for the whole game and lost 34-24. Isaac Kaufmann (Ipswich/Wests/Toowoomba/Norths/Easts) will play his 150th Cup game for the Tigers and his 192nd game overall when he starts from the bench this weekend. Lagi Setu will come onto the bench for Brett Zgrajewski for Easts in their only change, while the Sunshine Coast have made two changes to their team which pushed Tweed all the way last weekend.  Zac Litherland and Jye Ballinger drop out of the side with Nick Paterson and Rueben Baillie, who made the Central Division representative side following the 47th Battalion Carnival earlier this year, coming into the 17.

QRL Media tips: Easts Tigers by 14. The Tigers should have too much firepower for the young and relatively inexperienced Sea Eagles side.

WYNNUM MANLY SEAGULLS v CQ CAPRAS
BMD Kougari Oval on Sunday, August 11 - 2pm
Referee: Michael Gordon
Head to Head: Wynnum 24 Central 7 Drawn 2

Twitter: #intrustsupercup #ISC #WYNvCQC

After missing last weekend's game with an injury, fullback Jeriah Goodrich has been named to return in the place of Kurt French – who became an internet sensation last weekend after kicking a massive line dropout which went the length of the field. Despite some patches of good play like this – especially in the first half – the Seagulls fell away in the second to let the Jets back into the game, with the Ipswich team going onto win 28-22 in Toowoomba. The other two changes for the Seagulls will see Matt Grieve and Saia Makisi return to the side for Billy Solah and Andrew Clayton. The Capras on the other hand were victorious last weekend and coach Jason Hetherington has made no changes to the side that clung on for the important victory over the Redcliffe Dolphins. When the two teams played in round 15 it was a 46-6 win for the Seagulls; however, a lot has changed for the Central Queensland in that time and they have won three of their past five games, boosting their confidence. Wynnum Manly winger Nat Barnes (previously with the Tweed Heads Seagulls) will play his 150th Cup game in what will be another milestone for a player who became the competition's leading try scorer of all time earlier this year.

QRL Media tips: Wynnum Manly by 6. The Seagulls can be counted on to lift in front of their home fans at BMD Kougari Oval and will want to get back-on-track after slipping to fifth on the ladder last weekend.

Northern Pride Bye

Burleigh Bears Bye

Ipswich Jets Bye

Redcliffe Dolphins Bye