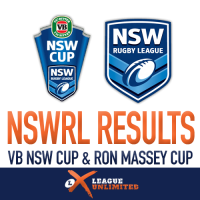 VB NSW CUP RESULTS – ROUND TWENTY FOUR
Newcastle Knights 30 (D Smith, T Randell, M Frei, T Likiliki, J Mantellato tries; J Mantellato 5 goals) def. Illawarra Cutters 26 (A Vea 2, G Aiga 2, T Cranston tries; J Drinkwater 3 goals) at the Sydney Cricket Ground.

Cronulla Sharks 54 (Y Tonumaipea 3, T Peachey 2, N Stapleton, K Auvaa, P Politoni, J Moors, T Robinson tries; C Townsend 7 goals) def. Manly Sea Eagles 0 at Henson Park.
Newtown Jets 28 (P Sapsford 2, N Seluini, R Jacks, B Barrett tries; C Taripo 3, P Rokolati goals) def. Wyong Roos 20 (M Filipo, M Williams, B Bennett, G Nelson tries; J Ford 2 goals) at Henson Park.
Windsor Wolves 46 (T Satini 2, S Anderson 2, L Capewell, M Moylan, W Naiqama, E Nabuli tries; W Naiqama 7 goals) def. Mounties26 (M Allwood, R Carr, S Shackleton, M McIlwrick, S Williams tries; S Williams 3 goals) at Mt Pritchard Sports Ground.
North Sydney Bears 32 (M Buckett, K Turner, A Koroisau, D Nicholls, S Corrigan, J Hunt tries; A Koroisau 4 goals) def. Wests Tigers16 (J Davis, R Brien, J Farlow tries; S Meaney 2 goals) at Campbelltown Sports Stadium.
Wentworthville Magpies 42 (H Raiwalui 2, D Parata 2, D Reardon, B McKinnon, C Herekotukutuku tries; A Fluke 7 goals) def.Auckland Vulcans 22 (V Lolohea, C Gubb, A Nafetalai, E Esera tries; S Taukeiaho 3 goals) at Ringrose Park.
The Canterbury-Bankstown Bulldogs had the bye.
Click here to view the VB NSW Cup ladder at the completion of Round Twenty Four  
RON MASSEY CUP RESULTS – ROUND TWENTY ONE

Wentworthville Magpies 38 def. Western Suburbs Magpies 12
Mounties 26 def. Guildford Owls 8
Windsor Wolves 23 def. Burwood North Ryde United 12
The Entrance Tigers 58 def. Blacktown Workers 28
Cabramatta Two Blues 58 def. Kingsgrove Colts 10
Auburn Warriors 48 def. Asquith Magpies 12
Click here to view the Ron Massey Cup ladder at the completion of Round Twenty One