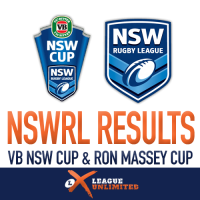 VB NSW CUP RESULTS – ROUND TWENTY ONE
Auckland Vulcans 44 (V Lolohea 4, S Ikahihifo 2, S Lousi, S Taukieaho, C Tuimavave tries; S Taukeiaho 3, P Godinet goals) def.Wentworthville Magpies 10 (P Mataele, M Mau tries; C Sandow goal) at Mt Smart Stadium #2.

Cronulla Sharks 24 (D Moroko 2, S Mills, N Gardner, T Gigot tries; C Townsend 2 goals) def. Wyong Roos 0 at Leichhardt Oval.
North Sydney Bears 30 (D Nicholls 2, L Burgess, J Matapuku, M Buckett tries; A Koroisau 5 goals) def. Mounties 26 (B Tupou 2, S Sauiluma, J Foster, S Shackleton tries; B Ferguson 3 goals) at North Sydney Oval.
Illawarra Cutters 26 (B Goodwin 2, G Aiga, K Lelei, C Garvey tries; J Drinkwater 3 goals) def. Canterbury-Bankstown Bulldogs 22 (J Palau 2, D Low, B Lane tries; J Littlejohn 2, C Thompson goals) at WIN Stadium.
Newtown Jets 44 (H Wells 2, P Sapsford 2, B Jones, P Rokolati, R Verlinden, J Aliaomai, Y Gordon tries; P Rokolati 4 goals) def.Wests Tigers 22 (M Utai, S Meaney, R Brien, A Haangana tries; S Meaney 3 goals) at Henson Park.
Newcastle Knights 38 (B Tupou, A Davis, S Likiliki, P Matautia, C Redman, A Quinn tries; J Mantellato 7 goals) def. Windsor Wolves36 (L Capewell 2, G Daniela, V Tia-Kilifi, L Coote, G Jennings, tries; W Naiqama 6 goals) at Windsor Sports Complex.
The Manly Sea Eagles had the bye.
Click here to view the VB NSW Cup ladder at the completion of Round Twenty One
RON MASSEY CUP RESULTS – ROUND EIGHTEEN
Auburn Warriors 54 def. Blacktown Workers 14
Guildford Owls 25 def. Asquith Magpies 18
Western Suburbs Magpies 104 def. Kingsgrove Colts 4
Mounties 32 def. Windsor Wolves 24
Cabramatta Two Blues 36 def. The Entrance Tigers 22 
Burwood North Ryde United 42 def. Wentworthville Magpies 28

Click here to view the RM Cup ladder at the completion of Round Twenty One