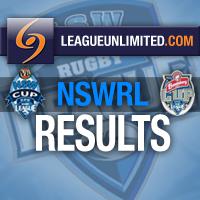 VB NSW CUP ROUND TWENTY FOUR RESULTS:

Auckland Vulcans
26 (K Hurrell 2, I Penehe, S Lousi, A Paasi tries; A Paasi 2, S Waetford goals) def.
North Sydney Bears
16 (J Hawkins, B Leslie, B Molan tries; R Carr 2 goals).
Mounties
34 (S Sauiluma 2, D Nicholls 2, M Ioane, C Faaee tries; S Jones 5 goals) def.
Wentworthville Magpies
26 (J MacKenzie, T Savage, L Joudo, M Ryan, C Herekotuktuku tries; J Wehbe 3 goals).
Illawarra Cutters 40 (M Lett, C Astill, B Goodwin, J Grehan, J Hickey, C King, D Gower tries; C King 5, B Goodwin goals) def. Manly Sea Eagles 10 (B Falcone, B Shorter tries; L Foran goal).
Cronulla Sharks 31 (I Gordon, T Peachey, R Kostjasyn, S Feki, J Green tries; C Townsend 5 goals; C Townsend field goal) def.
Canterbury-Bankstown Bulldogs
18 (B Lane, J Foster, J Gavet tries; B Goodwin 3 goals).
Newcastle Knights
78 (J Sau 3, A Davis 3, N Ross 2, C Adams 2, M Williams, W Schillings, E Tuimavave tries; J Mantellato 13 goals) def.
Western Suburbs Magpies
14 (G Davis 2, M Lekkas tries; L Fifita goal).
Windsor Wolves
34 (J Vai Vai 2, D Parata 2, L Pulu, K Morgan tries; M Mundine 5 goals) def.
Newtown Jets
26 (B Lazarus, S Latu, J Ailaomai, S Houma, A Cherrington tries; B Lazarus 3 goals).
Balmain Ryde-Eastwood Tigers had the BYE
Ladder after Round 24:
Bulldogs (+359) Bears (+196) 33 Wolves 32 Knights 30 Cutters 29 Wentworthville (+210) Tigers (+46) 28 Jets 27
Mounties
(-21) Sharks (-134) 26 Vulcans 24 Sea Eagles 16 Western Suburbs 4
Full ladder here
BUNDABERG RED CUP ROUND SEVENTEEN RESULTS:


Wentworthville Magpies
52 def.
Mounties
22
Blacktown Workers 36 drew with Auburn Warriors 36
Cabramatta Two Blues 40 def. Kingsgrove Colts 22
The Entrance Tigers 24 def.
Windsor Wolves
22
St Johns Eagles 42 def. Burwood North Ryde United 30
Ladder after Round 17:

Windsor 25, The Entrance 24, Wentworthville (+363) Cabramatta (+208) 23,
Mounties
(+233) 22
St Johns (+77) 22, Auburn 11, Burwood Nth Ryde 6, Blacktown 4, Kingsgrove 0
Full ladder here