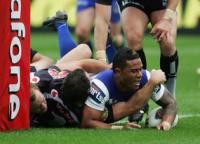 vs

21-08-2010 07:30PM at Dairy Farmers Stadium
Referee: Jason Robinson and Gavin Reynolds
Touch Judges: Daniel Eastwood and Gavin West
Referee: Phil Cooley

Super Saturday continues from Townsville in this blockbuster as the Bulldogs head north to face the
North Queensland Cowboys
. For those of you still awake after flicking between the Sharks v Storm match and the election, this one will be worth the wait. By kick off on delayed telecast, you may well know who holds the fate of the country in their hands and if this strikes as much fear into you as it does me, the Dogs v Cowboys is just the elixir you need to lift your spirits.
Sarcasm aside, there are some stories to tell in this one.
Jamal Idris
lines up in the second row, meaning he may well run into
Willie Mason
a few times in the opening exchanges... Arana Taumata faces one of the 15 clubs that tore up his contract..... and Mick Ennis will face Anthony Watts at times in this match which is sure to be a matchup of arguably the two cheekiest hookers in the NRL. Enjoy. Dogs by 1.
My Man of the Match Prediction: Ben Roberts
My Tip: Canterbury 25-24
The Teams
Head to Head
DragonPunk
(Justin Davies)
Bulldogs
Total Score
198
Twizzle
(Kevin Brennan)
Bulldogs
Total Score
174
Non Terminator
(Josh Hill)
Bulldogs
Total Score
166
Willow
(Steve Williams)
Cowboys
Total Score
162
CobyDelaney
(Coby Delaney)
Bulldogs
Total Score
152
Other Games this Round