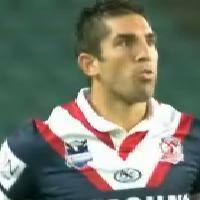 vs

31-07-2010 05:30PM at Parramatta Stadium
Referee: Shayne Hayne and Gerard Sutton
Touch Judges: Paul Holland and Gavin Morris
Referee: Sean Hampstead

Planes? Perhaps. Trains? Apparently not anymore. Automobiles? Plenty of parking at Parra stadium for this blockbuster on Saturday. Curiously scheduled for the dreaded 5.30pm time slot on Saturday, this could turn into a screamer with both teams charging towards the playoffs and on all sorts of winning streaks. The Eels favoured mid week at $1.50 but this will be close and very physical.
With
Anthony Minichiello
in his best form since 2005 and the
Todd Carney
experiment a ridiculous success, the Roosters will head out west brimming with confidence and will play as such. This will be the biggest test for Parramatta's impressive defence and one that they will not pass. The Roosters forwards once again play above themselves and pound the home side into submission. Pearce and Carney completely outplay Mortimer and Robson.
My Man of the Match Prediction: Nate Myles
My Tip: Roosters 20-18
The Teams
Head to Head
DragonPunk
(Justin Davies)
Roosters
Total Score
168
Non Terminator
(Josh Hill)
Roosters
Total Score
152
Twizzle
(Kevin Brennan)
Roosters
Total Score
148
CobyDelaney
(Coby Delaney)
Roosters
Total Score
138
Willow
(Steve Williams)
Roosters
Total Score
134
Other Games this Round