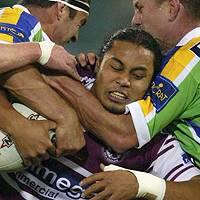 Manly have finally got their first win of 2010, after defeating an error-riduled Knights side 36-12 at Bluetongue Stadium tonight.

Newcastle started the match off in an odd fashion, attempting a short kick-off without success but they also posted the first points of the night, when Evarn Tuimavave powered his way over the white line to score. Naiqama added the extras but that would be the end of the scoring for the Knights in the first half.

For the rest of the half, it was all Manly as they ran in four tries, Tony Williams was destructive down the right side setting up one of Steve Matai's tries and throwing the last pass for Ben Farrar to score. Matai scored his other try after dummying the Newcastle defenders and scoring. Shane Rodney also crossed the white line and Lyons missing a penalty, taking the halftime score to 24-6.

After the break, Newcastle continued to throw away possession, throwing one pass too many, being intercepted by Matai. Later in the set, Manly added to their advantage when Matt Ballin dived over from close range, making the job just a touch harder for the Knights. Drop ball and disallowed tries would cost the Knights from adding to their score but Jason King would give Manly an unassailable lead when he kept his elbow off the ground to slam it down.

Newcastle couldn't amount any attacking football when they kept dropping the ball and an injury to Zeb Taia didn't help but they finally on the board in the 74th minute for a consolation try when Richard Fa'aoso cut back and went over to make the final score 36-12, giving Manly their first win after two come from behind victories were snatched from them in the first two rounds.

Newcastle will have to fix their handling errors and defence when they host the hot and cold Panthers next week, while Manly will head across the tasman to take on the enigmatic New Zealand Warriors.

Manly Sea Eagles 36 defeated Newcastle Knights 12
National Rugby League - NRL - Round 3 - Saturday March 27, 2010 7:30pm
Venue: Bluetongue Stadium
Referee: Ashley Klein and Tony De Las Heras
Video Referee: Russell Smith
Touch Judges: Steve Chiddy and Adam Reid
Crowd: 12,138
Halftime: Manly Sea Eagles 24 Newcastle Knights 6

Leagueunlimited.com players of the match:

3 Points - Jamie Lyon (6 Conversions)

2 Points - Steve Matai (2 Tries)

1 Point - Tony Williams

Manly Sea Eagles (36)
Tries: Matt Ballin, Jason King, Steve Matai (2), Shane Rodney, Ben Farrar
Conversions: Jamie Lyon (6/6)
Penalty Goals: Jamie Lyon (0/1)

Newcastle Knights (12)
Tries: Evarn Tuimavave, Richard Fa'aoso
Conversions: Wes Naiqama (2/2)

LeagueUnlimited.com Live Commentary Welcome to a cooler Bluetongue Stadium, for the second game of Super Saturday. Manly are named 1 through to 17 but Newcastle have one change, with Keith Luilia in for Adam MacDougall.

Earlier in the u20's Newcastle defeated Manly 30-22.

1 min: Scott Duereau tries the short kick off to start us off, but Matt Ballin catches the ball and starts Manly's set.

2 min: A huge bomb from Dureau puts Ben Farrar under pressure who drops the ball. Newcastle have a great attacking set.

3 min: Jarrod Mullen drops the ball close to Newcastle's line but Watmough tries a no look take of the ball but drops it to gift Newcastle more possession.

4 min: First penalty of the night, goes the way to Newcastle. 10m out.

6 min: TRY
After a false start, the ball is tapped and Tuimavave just runs and won't be stopped and scores the try! Conversion attempt by Wes Naiqama successful.
Newcastle Knights 6-0

7 min: Newcastle throw a wild pass but keep possession after Taia is judged to have been taken without the ball.

8 min: Newcastle almost have their second but force one pass too many. Anthony Watmough takes the ball and starts Manly off downfield.

10 min: Manly's back three have been pinned down in their own 20 and appeared to have caught knees from a Newcastle player and it's play on!

14 min: TRY
A beautiful pass from Glenn Stewart sets Tony Williams down the sideline getting through several players and passing it to Ben Farrar who strolls in. Conversion attempt by Jamie Lyon successful.
6 all

15 min: Straight from the next set from scoring, Manly get their first penalty for holding on for too long.

16 min: Tony Williams rampages down the sideline but is stopped by Shannon McDonell but Manly grubber through and recieve a penalty for accidental offside.

18 min: Manly will pile on more pressure here after Naiqama takes him out.

19 min: Another set to Manly after they get a second penalty.

21 min: TRY
Manly after several sets on Newcastle's line, spread it out wide to Rodney who scores Manly's second try. Conversion attempt by Jamie Lyon successful.
Manly Sea Eagles 12-6

21 min: Newcastle can't catch a break at the moment, kicking it dead on the restart.

23 min: TRY
Manly spread it wide again through second man plays and Matai takes on the line, dummying and scores in the corner. After a check from the video ref, it's deemed a try. Conversion attempt by Jamie Lyon successful.
Manly Sea Eagles 18-6

25 min: Safety first set for Newcastle is spoiled after a dropped ball in Manly's half.

26 min: Robertson tries to keep the ball alive but it's deemed to be a knock on, Newcastle scrum on their 30.

28 min: Newcastle continue upfield after a Foran bomb is taken by Uate but they also recieve a penalty for Watmough taking out a player.

30 min: The video referee denies Uate a try after he failed to grasp a shapr grubber put through by Dureau.

32 min: TRY
Manly attack from their own end, giving it to Tony Williams who kicks it crossfield for Steve Matai to score right next to the posts. Conversion attempt by Jamie Lyon successful.
Manly Sea Eagles 24-6

34 min: Jarrod Mullen brings his team into an attacking position after a nice 40/20.

35 min: A nice curving grubber from Dureau, has Farrar in all sorts and he drops it right under the Manly sticks.

36 min: Shannon McDonell tries to get up quickly but has the ball hit from his grasp from Stewart but it's a knock on.

38 min: Dureau almosts pulls off an incredible chip and chase but knocks it on trying to re-gather.

40 min: PENALTY GOAL ATTEMPT
Manly go down the right side again and Jamie Lyon tries his own chip but is held back from chasing and recieves the penalty. Newcastle are marched ten metres while Manly opt for the penalty goal. Lyon just misses the kick and takes us to halftime.
Manly Sea Eagles 24-6

40 min: HALFTIME - Aside from the opening ten minutes, it's been Manly's half, they've pounded MacDougall's side and have reaped the rewards, scoring four tries to one.

41 min: Tony Williams sets us underway for the second half, with the Knights 18 points down.

41 min: Newcaslte attack from their own line but throw one pass too many and Matai continues his strong game by intercepting the pass.

43 min: TRY
Newcastle with some soft defence, taking the dummy from Ballin who dives over to score the first points of the second half. Conversion attempt by Jamie Lyon successful.
Manly Sea Eagles 30-6

43 min: While that play happened, George Rose has walked off the field, it's not looking good for the big frontrower.

45 min: Dureau launches another huge bomb and it's again dropped but Newcastle fail to capitalise, Uate drops it early in the count.

47 min: Glenn Stewart deflects a Dureau pass towards his own end and it's play on. Manly recieve a penalty with Newcastle players al over the ball.

48 min: Glenn Stewart gets one across his nose and has some blood streaming from it and gets some attention. Robertson drops a bomb, which should have been easy.

50 min: Some promising play from Newcastle there, but undone after Naiwama only gets a finger to the ball and knocks it on.

51 min: Newcastle recieve the penalty after a forearm is raised in the tackle but it's on! Punches are thrown but both the players are just cautioned and play on.

52 min: Uate is penalised for taking out Michael Robertson, saving Manly there.

54 min: Manly drop the ball but Newcastle can't capitalise on that and Jamie Lyon swoops on the ball on the 5th and takes the ball downfield.

56 min: Forward pass by the Knights, trying to keep the play alive.

57 min: A simple drop ball by Tony Williams who simply spills it cold.

57 min: Newcastle are gathering some momentum after an offload sets em downfield and they also recieve a penalty to piggyback them into Manly's area.

58 min: NO TRY to Newcastle who spread it wide, with Paterson offloading to Lulia who is deemed to go into touch.

60 min: Newcastle are helped out of their own end with a penalty for Manly having a second play at the person playing the ball.

61 min: MacDougall continues Newcastle's woes with handling, dropping the ball while continuing the lunge forward.

63 min: Manly get a great attacking set after Newcastle are deemed to try and pass the ball after the player has been called held. Off the resulting scrum Manly try to sweep wide but it misses everyone and goes over the sideline.

64 min: Newcastle repeat the same old recording, dropping the ball allowing Manly to attack. Jason King goes close and it's been referred.

66 min: TRY
Jason King gets the try, his elbow never hit the ground and thus not a double movement. This is becoming a hammering for Newcastle. Conversion attempt by Jamie Lyon successful.
Manly Sea Eagles 36-6

68 min: Manly try to heap on the pain with a chip kick for the wingers but Newcastle get to it first and get the scrum.

68 min: Watmough tries to get involved but drops the ball, giving Newcastle an opportunity for points.

70 min: Matt Ballin keeps the advantage for the Eagles with a nice 40/20 kick, taking the Eagles deep into Knights territory but it's wasted with a pass going astray.

72 min: Newcastle's injury woes worsen with Zeb Taia leaving the field with what looks like a rib/chest injury.

74 min: A rather forgettable night for Newcastle after a Mullen pass falls straight into a Manly's players hands.

75 min: Manly drop the ball in theior own half to allow Newcastle a chance at consolation points. They pile on the pressure with a penalty for raking at the ball.

77 min: TRY
Faáoso takes the ball after cutting back and surges over for a consolation four pointer. Conversion attempt by Wes Naiqama successful.
Manly Sea Eagles 36-12

78 min: Newcastle try some flashy play to end the game on a high but it's defused by Lyon who dives on the ball.

79 min: Newcastle will have the final opportunity for points but again drop the ball in a good attacking position, Uate kicks the ball into the second row, summing up the Knights performance tonight.

80 min: FULLTIME - Manly play a safety first set to close out a comprehensive beating of the Knights, to record their first win of 2010.


Click Here to view the live update of the game.
|
To discuss the game with 1000s of other fans, please click here.