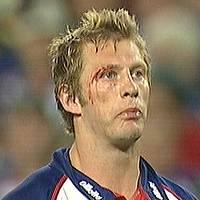 The Great Britain rugby league team maintain Sean Long's abrupt departure from the Tri Nations touring party is due to "personal reasons" and not a disciplinary punishment.
Halfback Long quit the series and flew home to England after a heart-to-heart talk with coach Brian Noble, it has emerged. Long's wife is close to giving birth to the couple's second child and it is thought that, after a mentally and physically draining season, the player felt he had nothing left to offer the team.
The St Helens scrum-half, one of rugby league's most colourful characters, stunned the Lions camp with his decision to return home to England just five days before their crucial re-match with Australia.
Britain need to avoid defeat by the Kangaroos in Brisbane to pip New Zealand for a place in the November 25 final at Aussie Stadium.