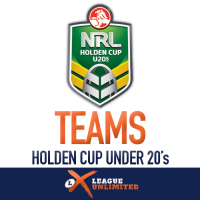 Teamlist Tuesday is here for Holden Cup Round 26 as we look ahead to the final round of the National Youth Competition before it's finals time!
All the match & broadcast details are right here, then as teamlists & officials arrive across your Tuesday afternoon, we'll make sure they're added as soon as we know them!
All times are listed in AEST (NSW/QLD/VIC) unless otherwise noted.
Twitter: Follow @LeagueUnlimited
Facebook: Like LeagueUnlimited - NRL & Rugby League News
---

2013 Holden Cup - National Youth Competition
Round 26 || Thursday 5, Friday 6, Saturday 7, Sunday 8 September
---

Brisbane Broncos v Canterbury-Bankstown Bulldogs
Suncorp Stadium, Brisbane, Thursday 5 September 2013
NYC kickoff 5:20pm
Referee: Chris Butler; Touch Judges: Liam Kennedy and Belinda Sleeman
1. Paul Byrnes 2. Elijah Alick 3. Jordan Drew 4. Soape Palau 5. Tom Opacic 6. Kodi Nikorima 7. Duncan Paia'Aua 8. Francis Molo 9. Jayden Berrell 10. Aaron Rockley 11. Ajuma Adams 12. Brett Greinke 13. Jai Arrow
Interchange: 14. Kalolo Saitaua 15. Caleb Timu 16. Jo Ofahengaue 17. Travis Peeters 
1. Patrick Templeman 2. Dylan Rintoul 3. Michael Morgan 4. Matthew Fukofuka 5. Dujean Manuel-Liolevave 6. Jaline Graham 7. Jaelen Feeney 8. Lloyd Perrett 9. Blake Carter 10. Josh Vaartjes 11. Adam Elliot 12. Shaun LaneShaun Lane 13. Jack Creighton
Interchange: 14. Denzel King 15. Renouf Tooamaga 16. Herman Essese 17. Danny Fualalo 19. David Minute
Official Match Hashtag: #NYCbricby
---

South Sydney Rabbitohs v Sydney Roosters
ANZ Stadium, Sydney Olympic Park, Friday 6 September 2013
NYC kickoff 5:20pm
Referee: David Munro; Touch Judges: Jimmy Oliviera and Nathan Smith
1. Alex Johnston 2. Ofa Felila 3. Jaiden Hawkes 4. Aaron Gray 5. Siosaia Tanginoa 6. Tyrone Phillips 7. Christian Hazard 8. Daniel Smith 9. Cameron McInnes 10. Joseph Nakhoul 11. Tulsa Saumamao 12. Jack Gosiewski 13. Brad Croad
Interchange: 14. Jackson Garlick 15. Cheyne Whitelaw 16. Jake Watts 17. Duncan Low 18. Lincoln Kavanagh
1. Nene Macdonald 2. Graeme Su'a Poe 3. Brendan Elliot 4. Rhyse Martin 5. Kurt Capewell 6. Samisoni Langi 7. Tyler Cornish 8. Shaquille Blair 9. Alex Thomas 10. Jokatama Dokonivalu 11. Matt Baker 12. Jack Siejka 13. John Asiata
Interchange: 14. Clarrie Moore 15. Willis Meehan 16. Louis Meehan 18. Tuiala Togitasi
Official Match Hashtag: #NYCsousyd
---

St. George Illawarra Dragons v New Zealand Warriors
WIN Stadium, Wollongong, Saturday 7 September 2013
NRL kickoff 12:45pm
Live TV: FOX Sports 1
Referee: Chris Sutton and Matt Noyen; Touch Judges: Ryan Jackson and Matt Damaso; Video Referees: Luke Patten and Jason Robinson 
1. Jackson Hastings 2. Kayne Brennan 3. Siti Mocedeike 4. Brent Anderson 5. DJ Harris 6. Drew Hutchinson 7. Jacob Neill 8. Vincent Stowers 9. Sam Coster 10. Addin Fonua-Blake 11. Wes Lolo 12. Kem Seru 13. Jack Bird
Interchange: 14. Luke Dodge 15. Taylor Brown 16. George Lolo 17. Jamie Stanley 18. Hehearko Tuima
1. Viliami Kaveinga 2. Metia Lisati 3. Lafu Feagaiga 4. Solomone Kata 5. Braxton Stanley 6. Tuimoala Lolohea 7. Mason Lino 8. James Taylor 9. Michael Sio 10. Trent Bishop 11. Stedman Lefau 12. Sione Feao 13. Adam Tuimavave-Gerrard
Interchange: 14. Kouma Samson 15. Sam Lisone 16. Sam Cook 17. Eko Malu
Official Match Hashtag: #NYCsgiwar
---

Melbourne Storm v Gold Coast Titans
AAMI Park, Melbourne, Saturday 7 September 2013
NRL kickoff 3:15pm
Referee: Jarrod Cole; Touch Judges: Tim Rutherford and Nick Morel 
1. Tremaine Jensen 2. Dane Chang 3. Niua Finau Puaka 4. Reubenn Rennie 5. Richard Kennar 6. Billy Brittain 7. Matt McGahan 8. Christian Welch 9. Alex Langbridge 10. Matthew Lodge 11. Rhys Kennedy 12. Dean Britt 13. Pride Petterson-Robati
Interchange: 14. Herschel Gideon 15. Brenden Treston 16. Cade Umaga 17. Vincent Rennie 21. Francis Tualau
1. Luke Baker 2. Kurtis McDonald 3. Hymel Hunt 4. Matthew Russell 5. Tevita Falou 6. Matthew Beddow 7. Kane Elgey 8. Francis Veukisio 9. Zach Friend 10. Oliver Percy 11. Kyle McConnell 12. Sam Gee 13. Mitchell Hall
Interchange 14. Jeremiah Nia 15. Adam Gledhill 16. Jack Durheim 17. Nathan Wilson
Official Match Hashtag: #NYCmelgld
---

North Queensland Cowboys v Wests Tigers
1300SMILES Stadium, Saturday 7 September 2013
NRL kickoff 5:15pm
Referee: Peter Gough; Touch Judges: Chris Nitsopoulos and Taylor Worth 
1. Zac Santo 2. Hayden Crowley 3. Samsen O'Neill 4. Lenny Magey 5. Brady Williams 6. Alex Grant 7. Sam Foster 8. Halvor Harris 9. Daniel Clarke 10. David Munro 11. Jack Kelleher 12. Jack Svendsen 13. Andrew Niemoeller
Interchange: 14. Chris Law 15. Corey Jensen 16. Kieran Quabba 17. Jack Brock
1. Kurtis Rowe 2. Delouise Hoeter 3. Manaia Rudolph 4. Salesi Funaki 5. Leva Li 6. Matt Mulcahy 7. Luke Brooks 8. Andy Fiagatusa 9. Manaia Cherrington 10. Nathan Brown 11. Kyle Lovett 12. Brenden Santi 13. Fosio Tatola
Interchange: 14. Dallas Graham 15. Andrew Kazzi 16. Jake Dooner 19. Shane Lalogafau 20. James Luff
Official Match Hashtag: #NYCnqlwst
---

Manly-Warringah Sea Eagles v Penrith Panthers
Brookvale Oval, Sunday 8 September 2013
NRL kickoff 11:45am
Live TV: FOX Sports 1
Referee: Brett Suttor and Jon Stone; Touch Judges: Scott Murray and Kasey Badger Video Referees: Justin Morgan and Paul Mellor
1. Matt Ikuvalu 2. Mitch Manson 3. Liam Knight 4. Charlie Taylor 5. Fabian Goodall 6. Sam Short 7. Riley Travers 8. James Mirceski 9. Michael Stig 10. Paul Tuigamala 11. James Parker 12. Dylan Kelly 13. Jamil Hopoate
Interchange: 14. Daniel Vasek 15. James Mirceski 16. Evan Lee 18. Chris Alavanos
1. Kieran Moss 2. Dallin Watene-Zelezniak 3. Waqa Blake 4. James Roberts 5. Tony Satini 6. Toby Evans 7. Daniel Foster 8. Andy Saunders 9. Josh Tangitau 10. Reagan Campbell-Gillard 11. Bryce Cartwright 12. James Dunley 13. Brendan Attwood
Interchange: 14. Iain Riccardi 15. Antonio Pelesasa 16. Tekina Vailea 17. Geordie Connelly
Official Match Hashtag: #NYCmanpen
---
Newcastle Knights v Parramatta Eels
Hunter Stadium, Newcastle, Sunday 8 September 2013
NRL kickoff 12:45pm
Referee: Daniel Olford; Touch Judges: Drew Oultram and Scott Shepherd 
1. Kevin Naiqama 2. Josh Mantellato 3. Peter Mata'utia 4. Siuatonga Likiliki 5. Chanel Mata'utia 6. Tyler Randell 7. Adrian Davis 30. Dylan Smith 9. Chris Adams 10. Mitchell Frei 11. Anthony Quinn 12. Korbin Sims 13. Matt Hilder
Interchange: 14. Chad Redman 15. Dylan Hartin 16. Brenton Horwood 17. Paterika Vaivai 21. Ben Tupou
1. Corey Makelim 2. Erick Aukofolau 3. Ethan Tangira 4. Connor Broadhurst 5. James Tuitahi 6. Mitchell Brasington 7. Zach Dockar-Clay 8. William Bugden 9. Luke Vescio 10. Diamond Charlie 11. Joseph Ualesi 12. Sean Jackson 13. Sam Gorman
Interchange: 14. Jordan Latham 15. Fred Junior Mauala 16. Takai Moeakiola 17. Ryan Matterson 18. Tui Kamikamica

Official Match Hashtag: #NYCnewpar
---

Canberra Raiders v Cronulla-Sutherland Sharks
Canberra Stadium, Sunday 8 September 2013
NRL kickoff 4:45pm
Referee: Liam Kennedy; Touch Judges: Phil Henderson and Michael Laverty
1. Jack Ahearn 2. Jonathon Reuben 3. Brenko Lee 4. Andrew Heffernan 5. Jack Creith 6. Jordan Worboys 7. Jono Kent 8. Mitchell Shaw 9. Trent Schubach 10. Dennis Tomarchio 11. Patrick Mago 12. Blake Seager 13. Luke Bateman
Interchange: 14. Matthew Frawley 15. Mitchell Barnett 16. Tevita Pangai 17. Tahakilu Pangai 18. Ricky Garard 19. Aisea Taholo


1. Taylar Garrett 2. Valentine Holmes 3. Fa'Amanu Brown 4. Rea Pittman 5. Dallas Wells 6. Nesiasi Mataitonga 7. Jake Walsh 8. Winstone Asotasi 9. Michael Lichaa 10. Jake Goodwin 11. Sione Masima 12. Michael Morris 13. Scott Sorenson
Interchange: 14. Ben Chahoud 15. Kurt Dillon 16. Jaden Clarke 17. Jack Broughton 18. Chad McGill
Official Match Hashtag: #NYCcancro