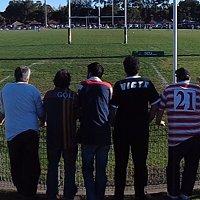 This week on A View from the Hill we hit the elephant juice and go under the mattress in search of Steven Dank's pay packet. We also chew over the sacking of David Furner and the revelation the Penrith Panthers wanted to buy a soccer team. You can't make this stuff up.

There will also be a wrap of both Friday Night games, a full preview of Round 24 NRL games and this weeks NSW Cup games.

We will also interview special guest Shannon Crane from the Thai Rugby League.

Plus we have some interesting emails from listeners as well as the latest posts from the League Unlimited Forums.

So Join Rob, Daniel, Steve and Nathan this Saturday from 11am (AEST) – and later on eternal loop - as they tackle this week's issues head on.
TO BE PART OF THE SHOW AND HAVE YOUR THOUGHTS AIRED, SEND US AN EMAIL [email protected]

We are War Children, and that's the difference between youse and us.

May the force be with you.

Link - clck here to tune in