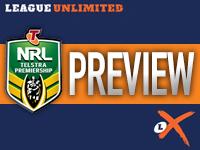 Penrith Panthers v Brisbane Broncos             
So, apparently we now head into the 'glory rounds', where the top 4 teams start to rest their superstars and the rest of the competition start planning for the 'glory' that is Mad Monday. So aptly named. To open round 24 of the competition, we have two teams who will approach Mad Monday very differently. The Broncos have plenty of experience and a city to lose themselves in – and hopefully hide in.
The young Panthers could be in trouble. They would not be used to the fame that 1st grade football brings so will rely heavily on the calming influence of the Client Newtons and the David Simmons' of the world. Plus, they'll need to come up with somewhere other than Panthers. A tough ask for a young team up against the mighty Broncos. Speaking of the Broncos, they've not lost in 6 weeks and that has them slight favourites.   
My tip: Brisbane 23-22
South Sydney Rabbitohs v Canterbury Bankstown Bulldogs
ANZ Stadium will come alive on Friday night for this blockbuster between the Bunnies and the 'Dogs. Souths enjoyed a mighty return to form last week against Manly when they shot home late to enrage the Eagles. Apparently, they were favoured by the referees. Canterbury were miles ahead of the Raiders last week and won well. Apparently, they were favoured by luck as we now know that the Raiders players may had been in the middle of a mutiny.
This week, no advantages for either team as 2nd plays 5th on the ladder and they'll both be keen to fire a warning shot for a possible semi final encounter. Greg Inglis will be the difference here. And he's fit. The Bulldogs have had some lapses in concentration this season and if this happens, especially up the middle of the field, GI will have a field day. Mick Ennis v Issac Luke a highlight, as always, and Souths' defence too good.
My tip: Souths 19-12
St George Illawarra Dragons v Wests Tigers
14 v 15 on the ladder but don't despair, footy fans. The famous Sydney Cricket Ground pumps some blood into this match, Saturday afternoon kick off gives it CPR and finally, the loyal Saints fans will act as defibrillator (thank you spell-check) and we eventually have a spectacle. Wests are 3 games away from ending their most disappointing season as a merged entity and the Dragons will be filthy at losing to the Sharks last week.
We know they won't be playing the percentages. We will see them throw the ball around and the weather will permit. Adam Quinlan shines again here whilst his opposite number, under some heavy criticism from the talking heads of rugby league, simply tries to get though it all. What's happening to Benji Marshall right now is one the great disappointments of our code. The Tigers simply don't have a direction.
My tip: saints 24-12
Gold Coast Titans v New Zealand Warriors
Saturday night from Skilled Park. The Gold Coast Titans somehow sit in 8th position and after working their butts off all year long, won't want to give it up easily. They were busted up by the Cowboys last week, but are slight favourites to beat the Warriors here. Speaking of the Warriors, they've fallen pretty hard since beating the Storm a month ago. This must have taken the wind out of their sail and their season is in ruins again.
Titans wonder kid Albert Kelly makes his return from injury here and he'll be better for the rest. Timely too, with Greg Bird in doubt and the home side desperate for some cohesion. The Warriors may have one more good game in them before season 2013 comes to a close, but this might not be it. The lure of the semi finals will either tighten up the collective sphincter of the boys from Robina, or they beat NZ for the first time in 6 attempts.        
My tip: Gold Coast 30-20
North Queensland Cowboys v Newcastle Knights
Saturday night footy from Townsville and what a beauty this promises to be. Two contrasting styles in the Cowboys and Knights. North Queensland have found their passion for rugby league again and Jonathan Thurston looks as dangerous and deadly as he ever has. The Knights, well, they hate rugby league and want to drag the rest of us down to wrestle town. They'll do everything they can to stall the free-wheeling home side.
Well, not everything. They won't stoop to tactics that border on bringing the game into disrepute, will they? Either way, a great battle between two of the best short kicking games in the NRL. JT and Jarrod Mullen will treat you to a clinical display so field position will be the key. That's where Matt Scott and James Tamou come in handy. The Cowboys roll along and the Knights' struggle to keep up when they can't slow it down.
My tip: North Queensland 20-12
Canberra Raiders v Manly Warringah Sea Eagles
After winning 8 games in a row at Canberra Stadium, the Raiders have lost their last two. Apparently, this was the coaches fault so David Furner has said goodbye to the club he has been a part of since 1992. A sad story for Furner, the Kangaroos assistant coach, to be dismissed in such a manner but the visiting Eagles won't give a flying Frisbee about this. In fact, judging by coach Geoff Toovey's emotional state, they might still be very angry.
Manly lost a close one to Souths last week but their form has been tremendous over the past month or so. This Sunday afternoon in the nation's capital, they'll hit back with style. Kieran Foran plays his 100th first grade game and the Manly forward pack aim up to put the home side on the back foot early. Jamie Lyon v Jarrod Croker a highlight but the rest could be a mismatch as Watmough, Horo and Glenn Stewart turn it up a notch.
My tip: Manly 30-14
Melbourne Storm v Parramatta Eels
Difficult to recall the last time we saw a 14-1 outsider in a two horse race (outside of the AFL, of course). The Parramatta Eels travel to AAMI Park this Sunday afternoon to face the mighty Melbourne Storm and what a scary thought this must be for Eels fans. Melbourne have a tremendous record at home, have won their past 3 by a total of 117-22 and have the Australian 9, 7 and 1. Good lord.
May god have mercy on the blue and gold's and may they fight on bravely through the horrifying, bloody mess that is their 2013 season. What will motivate the Eels here? Especially when the scoreboard starts ticking over beyond their control? The pride of accomplished 1st graders will be tested, more so than the youngsters at Parra. Kevin Proctor plays his 100th first grade match and the Storm march towards September footy.
My tip: Melbourne 40-0
Cronulla Sharks v Sydney Roosters
Monday night footy from the shire and the Sharks, again, have a few distractions to deal with as they try and focus on this match. They must be used to that by now, playing with a cloud over their head and playing with the fear of a dank future. Thank you. This week, they'll have to get their heads right, very quickly. The league leading Roosters are coming to town and they are on an 8 match winning streak.
When these teams met in round 19, the chooks turned up the heat and won 40-0. This time, Cronulla will have the benefit of a home game plus the full squad that they didn't have last time. The presence of Wade Graham, Luke Lewis and Jeff Robson will add toughness, but they'll need more than that to keep up with a potent Roosters team.  The Sharks will play with plenty of pride in defence, but won't have the points in them.
My tip: Roosters 24-14