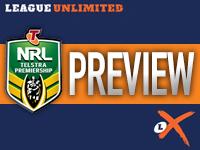 South Sydney Rabbitohs v Manly Warringah Sea Eagles
The mighty Eagles keep turning up and keep putting in. An amazing effort to back up from their prolific affair against the chooks in week 1 of the finals, to then beat down the insatiable Cronulla Sharks. This week; a Grand Final qualifier against the hard-nosed Rabbitohs. They can't possibly have anything left can they? Yes they can. Manly have the weapons to bust open a disciplined South Sydney outfit, but have to remain error free. A huge ask for a very tired forward pack.
Souths won't be thinking about this, won't be thinking about Manly's fitness levels. They'll be sticking with a game plan that's lasted them 26 rounds, 18 wins and now, a shot at a grand final appearance. The historical significance of this cannot be understated, so I'll over state it. The Bunnies have not been this close to glory in 40 years. Their fans will be rabid with excitement and the atmosphere at ANZ stadium on Friday night will be magnificent.
Not just a match of the round or the game of the season, this will be one for the ages. Manly's experience will ensure they have a few surprises up their sleeve and this will get them off to a good start.  But Souths have come a long way in 12 months and they'll be up to the challenge. Led by Adam Reynolds, who showed plenty of class in the 2012 Finals before busting his hamstring, the Rabbitohs will bounce back after the opening exchanges and be too strong and too methodical for the Eagles who play their 3rd blockbuster in 14 days.
Like every big game it'll be heart stopping for 80 minutes. Like every big game Greg Inglis has been involved in, he will be the one to watch.  Souths go through to their first Grand Final since 1971 and the 'pride of the league' has returned.
My tip: South Sydney 19-12
Sydney Roosters v Newcastle Knights
Saturday night from Allianz Stadium and this Preliminary Final has footy fans salivating. The Roosters entertaining style in attack and phenomenal resolution in defense has them one win away from a Grand Final. They are the Minor Premiers and have been the most entertaining team to watch all year. Plenty of big game experience in this squad and they are rightly set as short price favourites for this one.
But beware chooks fans – don't feel as confident as this short price suggests. The momentum of last week's unbelievable win in Melbourne, the energy of 50 busloads of Novocastrians on their way to Sydney, the mountain of experience from coach and club legends has the visiting Newcastle Knights primed for something special. They completely shut down the Bulldogs a fortnight ago and then led the Storm from start to finish last week. Now, they are very, very dangerous.
If another upset is to happen, the visitors will need to execute Wayne Bennett's perfectly prepared game plan. I'm no genius, but let's wager that this plan will involve slowing the game down to a virtual snail's pace. Jarrod Mullen and Tyrone Roberts will need to set the tone here. The Roosters in the red zone are near unstoppable and with the likes of Michael Jennings and Sonny Bill Williams on the attack, kicking games are crucial.
Unfortunately for Knights fans, the dream ends here. Two malicious and determined forward packs will beat and wrestle the stuffing out of each other for 80 minutes and this will keep the game close, but the Chooks arsenal is simply too potent to hold out.
My tip: Roosters 20-6