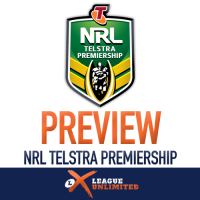 We've arrived at the final round! Friday night with the minor premiership battle, Saturday night deciding eighth position... and on Sunday the Eels might even be able to upset the applecart once more. Paul previews it all...
Tweet us: @LeagueUnlimited
Tweet Paul: @pavorka
Facebook us: LeagueUnlimited - NRL & Rugby League News
-----------------------------------
Brisbane Broncos v Canterbury-Bankstown Bulldogs
Suncorp Stadium, Thursday 7:45pm
Thursday night footy opens up your round 26 fixtures and what a way to begin winding up the season proper. The Bulldogs travel to Brisbane to take on the Broncos at Suncorp Stadium and there is plenty to like about this one. The visitors, for starters, are looking for some form, some consistency and a chance to move up the rankings and aim for a home semi. The Broncos, well, they are looking to say goodbye to a former gunslinger.
Scott Prince has announced his retirement and this match is his 300th and last first grade game. He leaves the code with a Premiership, 5 Origins, 4 Test Matches and a proud member of the Indigenous all-stars. We'll not forget the year Tim Sheens introduced this little Cowboy in Townsville. A deft touch with hand and foot, Prince made Rugby League look pretty and he made it look a joy. Thank you Princey.
My tip: Bulldogs 21-20 
-----------------------------------
South Sydney Rabbitohs v Sydney Roosters
ANZ Stadium, Friday 7:45pm
A battle for the J.J. Giltinan Shield at ANZ Stadium on Friday night and what better way to celebrate the resurgence of the Bunnies than giving them top billing of this one. Under lights, round 26, the semi-finals looming and their worst enemies coming to visit. Speaking of which, the Roosters have hit a tiny little wall this past fortnight, losing their last 2, and they'll have no time to work their way into this match. It will be on from kick off.
A big test for the Chooks forwards. They've missed Boyd Cordner since losing him to injury and won't want to show any signs of weakness against a clinical South Sydney pack. The tri-colours will look to work the edges more than running up the guts. Their advantage here is mobility with SBW and Aidan Guerra, but they may not get a chance to exploit it. Souths control field position through the boot of Adam Reynolds and turn this into a historical night.
My tip: Rabbitohs18-14  
-----------------------------------
St. George Illawarra Dragons v New Zealand Warriors
WIN Stadium, Wollongong, Saturday 3:00pm
The Warriors head to Wollongong, where they have a lifetime 1 and 10 record, in the hopes of forcing their way into the semi finals. They've got to win this one to stay alive and by gum, we hope they can. No disrespect to the Dragons, but the NRL needs to thrive in Auckland and a semi final run from the Warriors would be perfect for it. Not to mention perfect for footy fans. The Warriors play an entertaining brand and won't hold back here. 
Saints, by contrast, may just want to get 2013 over with... but not before one last hurrah for Nathan Fein and Mick Weyman. A couple of old hard heads bid farewell to the NRL here and Saints fans will remember them fondly, probably. Both instrumental parts of the Red V premiership of 2010, Wollongong will wish them well on Saturday afternoon but it may not be enough. The Warriors will get running in the warm conditions and they may not stop.
My tip: Warriors 24-14
-----------------------------------
Melbourne Storm v Gold Coast Titans
AAMI Park, Melbourne, Saturday 5:30pm
The Titans gave it everything in 2013. Unfortunately for them, the Cowboys have given even more over the past month and are blocking their road to the playoffs. So, they now travel down to AAMI Park in Melbourne to take on the Storm in the hope that a miracle happens. Miracle number 1 – they beat Bellamy's boys, who are $1.10 favourites... miracle number 2 – The Cowboys lose their match against the Tigers in Townsville.
But let's not get into semi final scenarios. Let's just remind ourselves that the Storm are reigning premiers and they don't usually mess around come September. They'd won 4 in a row before losing at Brookvale last week and now host the Titans for their final home game of the season. Melbourne are built for this time of year and will be showcasing some semi final football on Saturday night in the southern capital.
My tip: Storm 30-12
-----------------------------------
North Queensland Cowboys v Wests Tigers
1300SMILES Stadium, Townsville, Saturday 7:30pm
One final home game for the one they call 'Mango'. So many memories of Matt Bowen come to mind. We'll all remember the dazzling footwork and the all-too-rare freewheeling style that Bowen exhibited every time he touched a football, but more than anything, he was able to return to his former glory after a knee operation that very few athletes in any code could return from. This brave and ridiculously gifted athlete will be missed.
But not before he turns out the lights on the Tigers season. Some might say that the lights had already gone out in Tiger town, but either way, they finally wrap it up here and what a mess it has been. The Tigers will start well, as they did last week against Souths, but it won't make a lick of difference. The home side has won their past 5 and are in smoking hot form with the footy. They pile on the points again here with Bowen a standout. 
My tip: Cowboys 36-14
-----------------------------------
Manly-Warringah Sea Eagles v Penrith Panthers
Brookvale Oval, Sunday 2:00pm
So, the Panthers will know their fate before kickoff and as this fate will likely be preparations for Mad Monday, the next 80 minutes will test their motivation. But, these Panthers have been tested all year long and just when you thought they were about to fail, miserably, they kept bouncing back. Unfortunately for Panthers fans, the odds suggest they won't be able to bounce back for this match at Brookvale against the Eagles on Sunday afternoon.
Manly put together a fantastic performance against the Storm last week and in their final home game of the season, won't be messing around in this one. Lachlan Coote plays his last game for the Panthers and George Rose most likely plays his last ever game at Brookvale Oval. A sad day for Eagles fans as they will bid farewell to one of their favourites, but will do it with style. As will his teammates. Manly too good here.
My tip: Sea Eagles 24-14
-----------------------------------
Newcastle Knights v Parramatta Eels
Hunter Stadium, New Lambton, Sunday 3:00pm
Sunday afternoon at Hunter Stadium on Old Boys day, and the Knights should probably throw some Jersey's on their 'old boys' to keep this game close. Tony Butterfield up against the current Eels props? Billy Peden taking on the Parra back row? Owen Craigie against Ben Roberts? It would surely come down to the final moments and I'm salivating at the thought of it. But, my drooling issues aside, it's probably just a pipe dream.
Speaking of dreams, Nathan Tinkler's will be turning into a reality with the Knights rolling into the semi finals after this match. He's spent plenty of cash to get Wayne Bennett to the Hunter and Novocastrians will be celebrating. Conversely, the nightmare that is Parra's 2013 season finally comes to an end and what a relief it will be for their suffering fans. Just 80 minutes to go, Parra fans, but best you don't watch.
My tip: Knights 44-12
-----------------------------------
Canberra Raiders v Cronulla-Sutherland Sharks
Canberra Stadium, Sunday 7:00pm
And so 26 rounds of NRL footy come to an end with the Raiders hosting the Sharks from our nation's capital on Sunday night. How fitting that the Sharks wind up the season proper when almost 8 months ago, there was every chance they wouldn't play 1 game this year, let alone 26. Cronulla, remarkably, are semi finals bound and they have a mean forward pack, Todd Carney and Jeff Robson to thank for this.
Andrew Fafita, especially, has been a revelation this year and he'll lead the way once more against the Raiders here. Cronulla will be aiming all their big men at 20 year old Raiders junior superstar Mitchell Cornish. Cornish has been dominating the NYC and now, gets to tackle Fafita and friends for 80 minutes, just before the Holden Cup semi finals begin. Nice move, Canberra. Stupidity aside, the Raiders fight bravely here but the Sharks defence too good.
My tip: Sharks 22-16