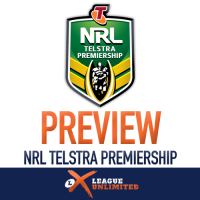 Another round of NRL footy comes around and with it are Paul's weekly previews! There are some crucial match-ups to open the weekend, with Brisbane heading to Newcastle to attempt to revive their flailing final eight hopes, while Penrith need to pip the high flying Roosters to stay in touch with the teams in the running. The Warriors host the Sharks in the first of several weeks of Saturday afternoon showdowns, while the 1983 Grand Final rematch is an important one for Manly who will be looking to maintain their top four spot ahead of the Storm. Speaking of the Storm... they travel to Canberra hoping to avoid another loss which could see them risk their top four spot in coming weeks. Canberra are undefeated at home this year and part of last year - a crucial stat for the green machine as they strive to stay in the eight themselves.
Below Paul Mitry previews all the action. Check out the TEAM LISTS for the weekend's clashes, and be sure to follow our LIVE updates across the weekend by hitting the links at the top of any page at LeagueUnlimited.com.
Newcastle Knights v Brisbane Broncos
Hunter Stadium, Friday 7:35pm
The smell of springtime and September approaches fast. In the harsh world of Rugby League, this can often smell like 3 day old road-kill and for one of these teams, that filthy stench could be just around the corner. The Knights have been hovering just below the top 4 since mid-season and the Broncos could have easily kissed their 2013 chances goodbye last week, if not for some flimsy Cowboys defence.
So, with the faint smell of success still luring these teams to greater heights, the Knights and the Broncos square up to open round 21 from Hunter Stadium on Friday night. The Ben Hunt halfback experiment continues for the Broncos and whilst he showed signs last week, he'll have to overcome Wayne Bennett's famous defensive structure to get the visitors home this week. He won't. Tyrone Roberts and Jarrod Mullen too good.
My tip: Newcastle 19-12
Penrith Panthers v Sydney Roosters
Centrebet Stadium Penrith, Friday 7:35pm
The Chooks represent a changing of the guard in the NRL. Stay with me for a minute…. For too long, the wrestling tactics of the Melbourne Storm, Wayne Bennett and a few other 1st grade coaches have slowed the game down to a grinding, miserable halt. Yes – I'm bitching – and I'm not finished. With the banning of the shoulder charge, you rarely see teams go berserk in defence and to the league's detriment; these tactics don't deliver much of a spectacle. 
To the point, the Roosters gave up 14 penalties last week and still looked good. Yes, they held down in the ruck a few times but they are not committed to the wrestle as a number 1 priority. They let the ball do the work and look great doing it. What a breath of fresh air. This week, they travel to Centrebet Stadium to take on the Panthers who suddenly look for small and very slow. A good year for Penrith but they've worked hard and now must be buggered.
My tip: Roosters 30-12
New Zealand Warriors v Cronulla-Sutherland Sharks
Mt Smart Stadium, Saturday 3:00pm (5pm NZ)
The Warriors; another football team who refuse to conform and design their play around slowing everything down. Since round 10 this year, they've won 7 from 8 and averaged over 26 points with the footy. Shaun Johnson has found his feet again and Kevin Locke has overcome his many injury problems. Blink and you'll miss them. Up front, Simon Mannering is dominating everything he touches and looks like a supreme skipper.
This Saturday, it's the Sharks who visit Mt Smart Stadium and joining them on the flight over are none other than Paul Gallen and Wade Graham. Their skipper and skipper in waiting, respectively. Gallen and Graham's plan will be to slow down the play the ball to a near crawl and then give Todd Carney enough space to confuse the Warriors back three with his kicking game – I guess. It won't work. Warriors are absolutely brimming with confidence.
My tip: New Zealand 24-6
Parramatta Eels v Manly-Warringah Sea Eagles
Parramatta Stadium, Saturday 5:30pm
A mate who does not follow Rugby League recently asked me what seemed a very simple question, "why are Parra so bad?" Where to start. It's been a few years of board level turmoil that has led them to some serious problems internally, but if we started that conversation we may never have finished. You just can't blame one person or put it all down to one moment or one thing – but over time, over many moments, they've become a disaster.
This week? Some more positional changes for the Eels but it doesn't get easier for the blue and gold faithful. Manly are heading west for your Saturday night special from Parramatta Stadium. The Eels have been brave at home for many games this season and they'll be trying hard here but simply cannot keep up with an Eagles outfit who've won their past 4 matches including putting 50 on the Eels only a month ago.
My tip: Manly 36-12
North Queensland Cowboys v South Sydney Rabbitohs
1300SMILES Stadium, Saturday 7:30pm
So, the Neil Henry experiment has come to an end, sort of. The Cowboys "announced" that Henry would not be 1st grade coach in 2014 so after over 100 games coached for North Queensland, he now tries to inspire a team who knows he won't be around in a few weeks. This would only happen in the NRL. Just to add a bit more flavour to your Saturday evening night cap, the league leaders are heading to Townsville.
South Sydney sit on top of the table and have a mean and nasty forward pack leading the way. In fact, Souths play like what you imagine North Queensland should play like when you read their roster. It's been a disappointing season for the home side and it's about to get worse. They might be playing with a bit more freedom this weekend but the Rabbitohs should be too good. The patience and control of Adam Reynolds gets Souths home.
My tip: Souths 22-20
Canberra Raiders v Melbourne Storm
Canberra Stadium, Sunday 2:00pm
Your match of the round comes from the nation's capital this Sunday afternoon and what a beauty it will be. The Raiders are undefeated at home and have a good recent record against the mighty Melbourne Storm. They match up well against the defending champs with a powerful forward pack who often prove too strong to lift, pull, stretch and spin. The wrestle is therefore nullified and the Raiders then start running.
This could happen again on Sunday and with the home side boasting some serious weapons out wide, the visitors won't want to give them a sniff. Melbourne won't be too worried about their opponents though; they've lost 4 from their past 5 and whilst this is no indication of form for a team like Melbourne, they'll be keen to get some momentum moving into August. They start favourites here but the Raiders will be too good in Josh McCrone's 100th game. 
My tip: Canberra 20-16
Gold Coast Titans v Wests Tigers
Skilled Park, Sunday 3:00pm
Mad Monday celebrations should be the hot topic here. If not – then perhaps the 'senior playing group' of the Tigers and the Titans might wanna get their house in order. August is usually the month where we first hear phrases like 'mathematical equation' and 'destiny is out of their hands'. For these two teams, there aint no abacus big enough and they both look destined for darkness in 2013. It's been particularly tough for the Tigers.
Wests are on another losing streak and just can't finish this season quick enough. The Titans have been ravaged by injuries and just can't defend their try-line. So what happens here? Well, if Benji Marshall gives a hoot about the club he has represented for 10 years of his life, he will turn up her for pride and pride only. Not likely – he still looks filthy about the club's reneging and his teammates know it. Gold Coast make their 200 fans happy, finally.
My tip: Titans 30-26
St. George Illawarra Dragons v Canterbury-Bankstown Bulldogs
WIN Jubilee Oval Kogarah, Monday 7:00pm
A week too late, this one. The Bulldogs travel to Kogarah's WIN Jubilee Oval for Monday Night Football to close out round 21. A wonderful local derby and even after the Dragons' merger, these colours still inspire hatred amongst two very passionate fan bases. The short trip from Belmore to Banksia is long enough to get the juices flowing here and Saints will turn up to play at their traditional home ground.
Unfortunately, their attack is still a step slow and nothing can turn this around, unless the Bulldogs give them the footy through error, as they've done a few times this year. Not this time. The hard work of Aidan Tolman and James Graham will open things up for the likes of Eastwood and Pritchard and then, Saints may not have an answer. Tim Lafai takes advantage of another shot at first grade and is one to watch here. 
My tip: Bulldogs 22-12