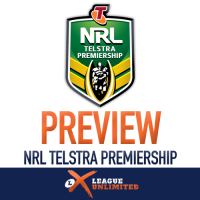 This week is the NRL's annual Rivalry Round, with a host of great matchups across four days of footy. It all starts on Friday night with the Queensland derby between the Cowboys and Broncos and in Sydney with the Bulldogs v Eels clash, and concludes with the "Fibros v Silvertails" clash at Campbelltown on Monday night.
Below Paul Mitry previews all the action. Check out the TEAM LISTS for the weekend's clashes, and be sure to follow our LIVE updates across the weekend by hitting the links at the top of any page at LeagueUnlimited.com.
---
North Queensland Cowboys v Brisbane Broncos
1300SMILES Stadium, Friday 7:35pm
Rivalry Round. You little beauty. We kick off with a Queensland derby as the Cowboys host the Broncos. Oh how the mighty have fallen. These contests used to be about the Broncos picking on their little brother – then moved into a phase where the Cowboys were all grown up and began to dominate. Now, with this seasons form lines not looking good for either club, we have 13 v 12 on the ladder and these brothers are looking like mothers.
With origin representatives coming back from active duty, a collection of superstars may help this match reach the heights that rivalry round deserves, but more likely you'll have determined defence against a fumbling attack. The Broncos, specifically, have struggled for creativity so Peter Wallace and Corey Norman have been sacrificed as a result. It won't make a lick of difference as the Cowboys get a Bowen/Thurston combination going just like old times.
My tip: North Queensland 22-16
Canterbury Bankstown Bulldogs v Parramatta Eels
ANZ Stadium, Friday 7:35pm
One of the great rivalries of the 80's, 90's and still plenty of memories from the past decade. Two proud Sydney clubs who've given us so many wonderful moments, so many violent altercations and the only time Nathan Hindmarsh ever went ballistic on a footy field. This time round, the Eels are miles away from any wonderful moments and are anchored to the wooden spoon position. Defence is their biggest problem, amongst many.
Canterbury are $1.10 favourites here but with the Eels occasionally showing a bit of movement in their rotting corpse, they'll start strong and challenge the 'Dogs early. Eventually, the home side's forward pack will take over the contest with James Graham and a well-rested Frank Pritchard leading the way. Throw in Tony Williams playing his 100th first grade game and the Bulldogs win this one up the middle. Could get ugly.
My tip: Bulldogs 32-12
St George Illawarra Dragons v Canberra Raiders
WIN Stadium Wollongong, Saturday 5:30pm
Nice piece of scheduling from the NRL. This fixture now falls into the 'rivalry' classification. For those of you who don't know about the hoodoo… Actually, you wouldn't be reading this if you didn't already know that the Dragons have not beaten Canberra, anywhere, since 2007. So, this time round the Raiders head to Wollongong as favourites and the Dragons have struggled mightily with the ball in hand until the final moments of last week's comeback victory against Souths.
Canberra have not won an away game since round 8 this year at Melbourne – but do have the advantage up front in this match. The Raiders' forward pack will be tested here – partly because they are penalised heavily on the road and partly because Saints always have a spring in their step in the 'gong. Joel Thompson gets a sneak preview of his future teammates – which reminds me how much I hate the mid-season signing rule. 
My tip: Raiders 24-14
Gold Coast Titans v South Sydney Rabbitohs
Skilled Park, Saturday 7:30pm
The inevitable ugly duckling of rivalry round. Some matches simply cannot fit into the sentiment of this weekend so we sacrifice one or two for the greater good. Saturday night at Skilled Park has the table topping Bunnies taking on the Titans. South Sydney had won 5 in a row before losing last Monday night and if coach Michael Maguire's reputation is anything close to the real thing, he'll be a little angry and a lot tougher on his players this week.
The visitors attack might not be as exciting without Greg Inglis but their defence will respond with brutality as Maguire gets them rolling all over the befuddled Titans. Once again, the Titans outside backs show they are not quite ready for 1st grade so keep an eye on Bryson Goodwin and Dylan Walker to bust this one open when the forwards have finished wrestling the crap out of each other. Issac Luke makes up for his struggles last week.
My tip: Souths 22-10
New Zealand Warriors v Melbourne Storm
Mt Smart Stadium, Sunday 12:00pm (2pm NZT)
A tip of the hat to Matthew Elliott who has not only proven many critics wrong but withstood the mounting pressure after his club lost 8 of their first 10 matches to begin the season. They've since lost only 1. This week, they host the reigning premiers from Mt Smart Stadium to kick of your Sunday triple header; A sign that we are now finished with the rep schedule and back into the season proper  - this is usually also a sign that the Melbourne Storm are about to shift gears.
It's now survival of the fittest. So, with the Storm superstars returning uninjured and hopefully, refreshed, we'll start seeing the best of Melbourne. This comes at a perfect time with the Warriors bound to deliver. Your match of the round won't disappoint as the home side kicks ahead early with Melbourne making up some ground late. The battle between Shaun Johnson and Cooper Cronk a highlight. One will dazzle you to death whilst the other completely suffocates you.
My tip: Warriors 18-16
Cronulla Sutherland Sharks v Penrith Panthers
Remondis (Sharks) Stadium, Sunday 2:00pm
For a couple of teams with real top 8 aspirations, they both copped a pounding last week. The undermanned Sharks blew into Allianz Stadium and were blown right back out by a dominant Roosters team, giving up 40. The Panthers fought hard for most of the match, in fact they had the better of the first 38 minutes, but still gave up 32 to the Knights. Flanno and Ivan Cleary would not be happy.
And neither will fans watching this match at Remondis Stadium on Sunday afternoon. Both teams will focus on defence mid-week and the results may put you to sleep. They'll play the percentages and won't take any risks – unless Todd Carney has one of those games he is capable of having. Fingers crossed. The Sharks desperately missed Luke Lewis last week and will again here, but with Carney, they are still capable of more.
My tip: Cronulla 18-14
Newcastle Knights v Sydney Roosters
Hunter Stadium, Sunday 3:00pm
Sunday afternoon's triple header finishes at Hunter Stadium in Newcastle as the Knights host the Roosters. The home side is really starting to look like a Wayne Bennett coached team. A good start to the season, followed by a mid-year slump, and now – winners of their past 3. Bennett reputedly flogs his players at training during the middle rounds and the Knights lost 4 in a row over that span. They're now primed for the business end.
Speaking of primed, the Roosters are clicking again and have won their past 4. The chooks defense hasn't allowed a point in their past two matches; outstanding. Your match of the round will bring a patient approach from the Knights as they hope to run away with this at the back end, but the Roosters simply have too much firepower to be kept at bay for this long. If only the rules allowed for Willie Mason and SBW to square off in the middle of the park.
My tip: Roosters 18-8
Wests Tigers v Manly Warringah Sea Eagles
Campbelltown Stadium, Monday 7:00pm
A beauty from the Wild West. The Eagles have hit their stride with 3 straight wins but more impressively, have averaged 40 points per game with the ball over that span. This could spell danger for the Tigers who've had a horrible year all round. They've struggled with a horrific injury toll and their famous free flowing attack has stalled on a number of occasions. Now, with the news they'll be without Benji Marshall next year, fans must be at breaking point.
So, Monday night footy from Campbelltown should see them finally crack, into a million pieces. The Tigers will start strong and get the Eagles on the back foot but Manly's attack is clicking into high gear with their spine intact and their forwards healthy. A tip of the hat to Robbie Farah who plays his 200th first grade game, all for the mighty black and white and golds, but on Monday night he'll again be playing a lone hand.
My tip: Manly 32-20