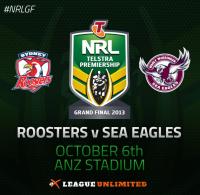 Sydney Roosters v Manly Warringah Sea Eagles
The 2013 NRL Grand Final is a gift from the heavens; a gift to those of us who've suffered through years of domination by teams praying to the altar of the wrestle. Whilst their commitment can never be questioned, the Wayne Bennett's and Craig Bellamy's of the world are now being left behind, along with their antiquated ideas of making the most of a loophole in the rule book. No more rewards for wrestling, baby, and thank gawd.
The Sydney Roosters and the Manly Sea Eagles play a different brand of rugby league. A more honest brand. The Chooks, in particular, have done this whilst chalking up one of the most impressive defensive records of any team in history. There is a message here to all the future prowlers, chicken wingers, crushers and rolling pinners of the world – wrestling is so last season, not to mention one of the longest lasting forms of unsportsmanlike conduct we've seen.
Moving on…
The Roosters will bring this brand to Sydney Olympic Park on Sunday night and start as favourites in your 2013 NRL Grand Final. What a game of footy this will be to decide the Telstra Premiership. Led by a young but qualified halves combination in Mitchell Pearce and James Maloney, the tri-colours will be near impossible to crack and very hard to contain over the 80 minutes. One sniff, from any part of the field and they'll be posting points.
Manly? Well, they come in waves. Last week and over the course of the season, the Eagles have turned up when they needed to most. They've only lost 4 games since June (two of those against the Roosters). Last week, they looked absolutely unstoppable from the 30 minute mark, to the point where they seemed shocked at how easy the metres were being made. Set of six after set of six, Manly went into the red zone and threatened. This kind of rhythm cannot come easily. The Sea Eagles have worked hard for years and deserve their success.
Plenty of players to watch in this one – with the Roosters showing a perfect balance of youth and experience, you'll get big games from the latter. The one and only Anthony Minichiello, who plays in his 6th decider. You'll see James Maloney's best, after losing a Grand Final only 2 years ago to Manly. You'll even see Daniel Mortimer deliver something special after being involved in Parramatta's famous run in 2009 and of course, the mighty Jets last year.
The Eagles, by the same token, will look relaxed and as easy as Sunday morning. Their senior players have held up the trophy before and played in some very, very big games. Look for this experience to rub off on the likes of Justin Horo, Jorge Taufua and Brenton Lawrence. They'll be jumping out of their skin and after magnificent break-out seasons for all of them; will be the ones to watch for Manly, along with their cast of usual suspects.
GF experience out the ying yang here so don't expect any of the early match jitters that we've seen in the past. Manly will hit hard in defence, as always, and the result will be another magnificent contest between Jared Waerea-Hargreaves and the entire Eagles pack. Once this settles down, the boys from Brookvale will aim to keep the ball out of the hands of the wide-running and dangerous Roosters back rowers. That's when a magnificent chess match will begin.
Unfortunately for the brave Eagles, they'll only be able to keep the Minor Premiers and their arsenal of attacking weapons in check for so long. Eventually, when the points come, it will be from sustained ball control and a knockout performance from their halves; one that Pearce and Maloney have been preparing for their whole lives and one that many critics might doubt from Pearce, in particular. He could find some redemption on Sunday.
My tip: Roosters 18-8
Clive Churchill Medallist prediction: James Maloney