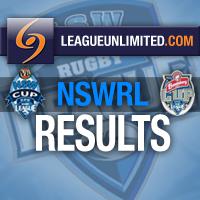 VB NSW CUP ROUND TWENTY SIX RESULTS:

Auckland Vulcans 52 (I Penehe, A Nafetalai, S Waetford, A Paasi, W Peace, V Setefano, N Peteru,
Sione Lousi
,
Sam Lousi
tries; A Paasi 7,
Sam Lousi
goals) def. Cronulla Sharks 8 (Z Rasmussen, S Feki tries).
Illawarra Cutters 18 (M Lett, J Grehan, J Marketo tries; C King 3 goals) def.
Windsor Wolves
9 (J Sene Lefao try; C Trindall 2 goals; A Taumata field goal).
Newcastle Knights 30 (J Mantellato, J Sau, K Naiqama, E Cook, E Tuimavave tries; J Mantellato 5 goals) def.
Canterbury-Bankstown Bulldogs
12 (D Halatau, L MacDougall tries; B Goodwin 2 goals).
Mounties 18 (S Jones, E El Zbadhieh, S Sauiluma tries; S Jones 3 goals) drew with
North Sydney Bears
18 (C Johnston 2, S Corrigan, B Judd tries; J Hunt goal).
Balmain Ryde-Eastwood Tigers 76 (D Chisholm 5, J Reddy 2, T Naiavaryaro 2, F Tuigamala, J Farlow, R Cashmere, T Simona, P Politoni tries; S Meaney 10 goals) def.
Western Suburbs Magpies
4 (S Silafau try).
Wentworthville Magpies 64 (T Tautai 2, L Joudo 2, D Penese, P Terepo, J Wehbe, D Gilbert, T Savage, V Toutai, J MacKenzie tries; J Wehbe 10 goals) def. Manly Sea Eagles 18 (M Chapman, D Nasso, L Higgins tries; L Foran 2, M Stromquist goals).
Newtown Jets had the BYE
To view the VB NSW Cup ladder at the completion of the regular season click on the link below:
http://www.nswrl.com.au/default.aspx?s=nswc-ladder
The draw for Week One of the VB NSW Cup Finals Series will be confirmed on Monday morning
BUNDABERG RED CUP FINALS SERIES - WEEK ONE RESULTS:


Wentworthville Magpies 36 def.
Windsor Wolves
16
Cabramatta Two Blues 24 def. St Johns Eagles 20
The St Johns Eagles have now been eliminated and below is the draw for Week Two of the Bundaberg Red Cup Finals Series:
Windsor Wolves Vs Cabramatta Two Blues
Lidcombe Oval, Saturday, September 8
Kick-off: 3.30pm
Loser is eliminated and winner plays the loser of the second match
The Entrance Tigers Vs
Wentworthville Magpies
Lidcombe Oval, Saturday, September 8
Kick-off: 5.15pm
Winner advances to the Grand Final with the loser playing the winner of the first match the following week
Like