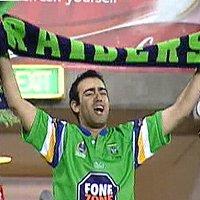 vs

01-08-2010 02:00PM at AAMI Park
Referee: Ben Cummins and Phil Haines
Touch Judges: Steve Chiddy and Adam Reid
Referee: Tim Mander

It's beginning to get difficult to write about the
Melbourne Storm
. We all had our opinions when the news broke earlier this year, but they are still playing football with the same team and getting paid the same money. It seems like too much effort to talk about how they are about to rob the young
Canberra Raiders
of their semi final dreams and make another mockery of the NRL administration. I've never been a fan of too much effort.
So instead, I implore
Brett White
to do everything in his power to help the Raiders leave AAMI stadium with the two points. Brett: this can only be an investment for you. Help them win, drop the ball, miss a few tackles and give away some penalties late in the tackle count. Get them to the finals and when you head to Canberra next year, the place will be pulsating with positivity and this can only rub off on you and then... success is inevitable.
My Man of the Match Prediction: Brett White
My Tip: Canberra 21-20
The Teams
Head to Head
| | | | | |
| --- | --- | --- | --- | --- |
| 2010 | NRL - Round 10 | Canberra Stadium | Melbourne Storm | 17-6 |
| 2009 | Round 16 | Canberra Stadium | Canberra Raiders | 26-16 |
| 2009 | Round 10 | Olympic Park, Melbourne | Melbourne Storm | 46-6 |
| 2008 | Round 17 | Olympic Park, Melb | Melbourne Storm | 30-14 |
| 2008 | Round 6 | Canberra Stadium | Melbourne Storm | 23-16 |
DragonPunk
(Justin Davies)
Storm
Total Score
168
Non Terminator
(Josh Hill)
Raiders
Total Score
152
Twizzle
(Kevin Brennan)
Raiders
Total Score
148
CobyDelaney
(Coby Delaney)
Raiders
Total Score
138
Willow
(Steve Williams)
Raiders
Total Score
134
Other Games this Round
Like