Author Profile: New Zealand Warriors
Average Article Views:
188.93
Recent Articles by New Zealand Warriors
October 16th 2013 11:02am by New Zealand Warriors
The Vodafone Warriors and the Auckland Rugby League today announced they had reached agreement for the NRL club to take over operation of the Vulcans in the New South Wales Cup.
October 10th 2013 01:09pm by New Zealand Warriors
Vodafone Warriors loose forward Todd Lowrie has returned to Australia after being granted a release from his contract on compassionate grounds.
September 6th 2013 11:01pm by New Zealand Warriors
THE Warriors extend the contract of Sam Rapira until 2015
August 29th 2013 02:06pm by New Zealand Warriors
Utility forward Steve Rapira is finishing up with the Vodafone Warriors at the end of the 2013 NRL season to take up a two-year contract with Salford in the English Super League
August 15th 2013 08:20am by New Zealand Warriors
HOOKER Nathan Friend will extend his time with the Vodafone Warriors to three seasons after today signing a new contract for at least another year.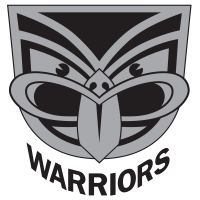 June 25th 2013 03:18pm by New Zealand Warriors
WINGER Bill Tupou has today been granted an early release from his Vodafone Warriors contract to join the Canberra Raiders on a deal through to the end of the 2015 NRL season.
June 12th 2013 03:24pm by New Zealand Warriors
CRONULLA halfback Chad Townsend will join the Vodafone Warriors on a two-year contract for the 2014 and 2015 NRL seasons
June 11th 2013 02:35pm by New Zealand Warriors
FIVE of the Vodafone Warriors' younger NRL squad members have today been re-signed for at least another season.
June 4th 2013 12:13pm by New Zealand Warriors
VODAFONE Warriors chief executive Wayne Scurrah said the club is considering its options following a $15,000 breach notice issued by the NRL today
May 24th 2013 12:47pm by New Zealand Warriors
SCANS this afternoon have confirmed utility Ben Henry has become the third Vodafone Warriors player to have his 2013 season ended by a knee injury