Author Profile: Melbourne Storm
Total Article Views:
115295
Average Article Views:
1,987.84
Recent Articles by Melbourne Storm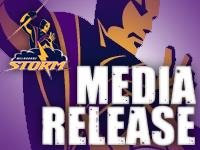 May 20th 2011 11:50am by Melbourne Storm
MELBOURNE Storm is proud to be supporting Responsible Gambling Awareness Week (RGAW) which officially
March 30th 2011 03:25pm by Melbourne Storm
AN update on injured and available players for the Melbourne Storm after Monday night's loss to the Cowboys.
March 29th 2011 03:48pm by Melbourne Storm
MELBOURNE Storm Coach Craig Bellamy has named a 17-man squad for Monday night's blockbuster clash against the Canterbury Bulldogs at AAMI Park.
March 29th 2011 12:34pm by Melbourne Storm
MAKITA looking after your Storm mates Monday night footy is back at AAMI Park and, to celebrate Melbourne Storm's Monday game, Makita Outdoor Power Equipment and Storm have come together to offer Melbournians a special deal: Makita Monday Nights Mates' Ni
February 23rd 2011 05:41pm by Melbourne Storm
THE Melbourne Storm have named a 23-man outfit for their final pre-season trial against the Brisbane Broncos at Dolphin Park, Redcliffe.
February 17th 2011 12:15pm by Melbourne Storm
TEAM selection for this weekend's Melbourne Storm trial against rivals Canberra at Bega Recreational Oval.
February 14th 2011 11:19am by Melbourne Storm
MELBOURNE Storm Ambassador Robbie Kearns will today visit Melbourne's Royal Children's Hospital to present a cheque on behalf of the club for the funds raised in last year's Points for a Purpose themed game.
February 9th 2011 07:35pm by Melbourne Storm
THE players below have been selected to play in Melbourne Storm's trial game this Friday night in Brisbane...
February 5th 2011 09:47am by Melbourne Storm
ON Sunday, Melbourne Storm launches the club's new advertising campaign, Playing for Everything, across television and in print.
February 4th 2011 06:52pm by Melbourne Storm
MELBOURNE Storm and Crown Melbourne have today announced a new major sponsorship agreement.