Author Profile: Eels media
Total Article Views:
72367
Average Article Views:
629.28
Recent Articles by Eels media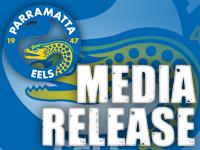 April 12th 2011 05:14pm by Eels media
PIRTEK Parramatta Eels coach Steve Kearney has primarily shown faith in his side beaten 38-0 stuck by the Melbourne Storm last Sunday.
September 26th 2010 09:13pm by Eels media
THE Pirtek Parramatta Eels Board of Directors held an extraordinary board meeting tonight to discuss the NRL team coaching position and has decided to terminate the final year of Daniel Anderson's contract.
September 25th 2010 02:36pm by Eels media
THE Pirtek Parramatta Eels and departing forward Feleti Mateo wish to deny claims on radio this morning that there was any racial vilification issue between Mateo and coach Daniel Anderson.
September 2nd 2010 06:45pm by Eels media
THE Pirtek Parramatta Eels have bolstered their depth in the forwards with the double signing of enforcers Carl Webb and Reni Maitua.
September 2nd 2010 01:22pm by Eels media
LAST night Parramatta Eels fullback Jarryd Hayne was awarded the prestigious Ken Thornett Medal for the second year in a row at the club's 2010 Presentation Night.
September 1st 2010 07:10pm by Eels media
THE Pirtek Parramatta Eels will celebrate the career of Nathan Cayless this Saturday at Parramatta Stadium with a special on-field tribute at the conclusion of the match against the Warriors.
August 31st 2010 03:48pm by Eels media
THE Pirtek Parramatta Eels farewell a champion this Saturday evening at Parramatta Stadium, with Nathan Cayless named to play his final NRL match ever after 258 games in the Blue & Gold.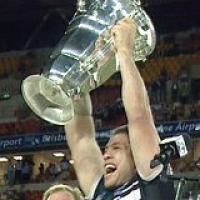 August 30th 2010 01:42pm by Eels media
THIS Saturday at 5.30pm the Pirtek Parramatta Eels' longest-serving captain Nathan Cayless will hang up his boots after 14 seasons with his beloved club at Parramatta Stadium.
August 26th 2010 09:35pm by Eels media
THE Pirtek Parramatta Eels have received a boost on the eve of their clash with the South Sydney Rabbitohs after today re-signing forward Justin Horo and winger Eric Grothe.
August 21st 2010 12:29am by Eels media
THIS special event, scheduled for 15th September, will be held at Sydney Olympic Park Athletic Centre featuring special guest, the fastest man in history. Usain Bolt.