Author Profile: Cronulla Sharks
Total Article Views:
54767
Average Article Views:
2,882.47
Recent Articles by Cronulla Sharks
October 3rd 2013 05:19pm by Cronulla Sharks
The Sharks have acquired the services of Dragon Matt Prior, with the Grand Final winning forward today signing a two year deal with the club beginning in 2014.
October 3rd 2013 09:53am by Cronulla Sharks
SHARKS fullback Michael Gordon has beaten off the challenge of a number of worthy contenders in being named the Monty Porter Medalist and Pontifex Sharks Player of the Year at the club's annual presentation night held at Sharkies Leagues Club.
August 28th 2013 10:35pm by Cronulla Sharks
Sharks centre Ben Pomeroy has been found not guilty after challenging a grade one a dangerous throw charge
August 21st 2013 02:11pm by Cronulla Sharks
In relation to the matter of salary cap breaches and the allegation of improper payments to players
July 31st 2013 05:55pm by Cronulla Sharks
THE Cronulla Sharks have promoted Steve Noyce to the position of Interim CEO of the Football Club, effective immediately.
July 12th 2013 02:36pm by Cronulla Sharks
THE Sharks announce that they have agreed to terms with Wests Tigers centre Blake Ayshford for the 2014 and 2015 seasons.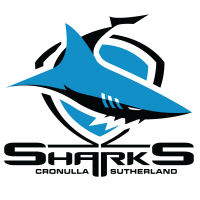 June 25th 2013 09:16am by Cronulla Sharks
ANTHONY Tupou and Ricky Leutele have committed to the Cronulla club for the 2014 and 2015 seasons.
May 9th 2013 03:39pm by Cronulla Sharks
THE Sharks five eighth Todd Carney has signed a new long term contract which will see him remain in Cronulla colours for the next five seasons.
April 30th 2013 03:04pm by Cronulla Sharks
SHARKS NRL player Wade Graham has offered an unreserved apology in relation to his choice of attire yesterday for an interview with ASADA.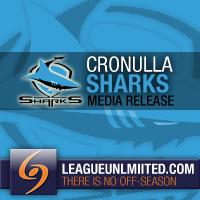 February 27th 2013 01:07pm by Cronulla Sharks
THE Sharks are proud to announce they have entered into Official Charity partnerships for the 2013 NRL season with the McGrath Foundation and Sutherland Shire organisation Project Youth.