Author Profile: Canberra Raiders
Total Article Views:
100657
Average Article Views:
637.07
Recent Articles by Canberra Raiders
November 24th 2010 03:13pm by Canberra Raiders
THE Canberra Raiders along with Major Sponsor the CFMEU/Tradies have presented a $19,600 cheque to the Spastic Centre today, for the 2010 Points for Cash initiative.
November 9th 2010 04:30pm by Canberra Raiders
CANBERRA Raiders player Joel Monaghan has resigned from the club today, but has been told by club management he will always be welcome at Raiders HQ.
November 4th 2010 05:57pm by Canberra Raiders
JOEL Monaghan has issued a statement through his manager Jim Banaghan today expressing both remorse and disgust at an alcohol fuelled prank that led to images being circulated across social networks today.
October 5th 2010 05:51pm by Canberra Raiders
AS of Tuesday October 5, Canberra Raiders supporters can either renew their season membership with the club or sign on to become a new member for the upcoming season.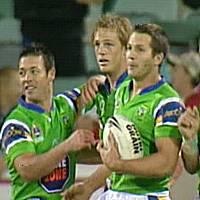 May 9th 2006 12:00am by Canberra Raiders