Alby Talarico
Steele Sports
Average Article Views:
0.00
ABOUT STEELE SPORTS
Steele Sports are online news and game-calling service and an official media partner of the NSW Rugby League. Steele Sports broadcasts comprehensive coverage of the 2013 VB NSW Cup season with commentary streamed LIVE from the sidelines.  Each week, Albert 'Alby' Talarico, Keith Payne and Tony Dosen bring the nostalgia of old-school game-calling into the future with clear, uninterrupted digital delivery from the Steele Sports website to a listener's tablet, smart phone or computer. Just log on to www.steelesports.com.au or follow the conversation on Twitter @steelesport #vbnswcup
Recent Articles by Alby Talarico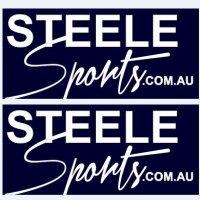 May 22nd 2013 09:27am by Alby Talarico
WWW.STEELESPORTS.COM.AU THIS week the Steele Sports Team will be at the Majestic North Sydney Oval to call all the VB NSW Cup action between the North Sydney Bears and Newtown Jets... this week we welcome the boys from
Subscribe to our eNewsletter
Keep up to date with all the happenings in the world of Rugby League with our free eNewsletter!
Facebook
The Roosters have announced their team for Round 2.

Follow all the team announcements for Round 2...

32 secs ago

The Titans have announced their team for Round 2.

Follow all the team announcements for Round 2 h...

4 mins ago

The Storm have announced their team for Round 2.

Follow all the team announcements for Round 2 he...

33 mins ago

The Bulldogs have announced their team for Round 2.

Follow all the team announcements for Round 2...

46 mins ago

The Tigers have announced their team for Round 2.

Follow all the team announcements for Round 2 h...

50 mins ago